Climate Riders Countering Climate Denial
Lily Trienens
|
May 24, 2018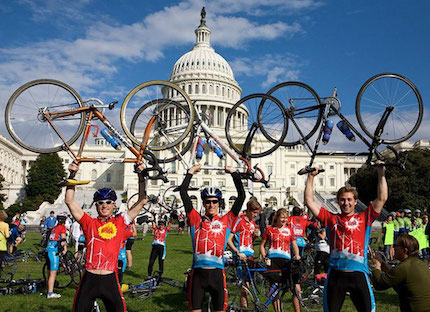 Recently, I was astounded to find that special interest groups funnel nearly $1 billion each year* to push anti-science bills, delay action on climate change, and spread fake climate science to K-12 schools. It's in this context that ACE has launched an all-new version of Our Climate Our Future, our award-winning climate education resource and a powerful way to stop the spread of dangerous misinformation.
ACE's incredible community of grassroots supporters, including Climate Riders across the country, have already helped us reach 550,000 students across the country to teach the facts, impacts, and solutions of climate change and empower young people to take climate action.
You, too, can join Climate Riders to educate and empower young climate leaders to counter the powerful denial and misinformation campaigns.
In addition to rides in the Pacific Northwest, northern Michigan, and Nova Scotia we are so excited that Climate Ride is launching their first ever Climate Ride Colorado which runs from August 25-30 and crosses over the majestic Rocky Mountains in the backyard of ACE headquarters. We can't wait to host a special celebration in Boulder at the end of the ride to honor riders supporting ACE.
To join ACE to educate and activate 3 million more young people by 2020:
Reach out to me if you're interested in learning more! Email or call me anytime at [email protected] or 720-307-7305.
*Brulle, R.J. (2013). Institutionalizing Delay: foundation funding and the creation of US climate counter-movement organizations. Climatic Change. 122(4), 681-694.