ACE's Amber Nave Named White House "Champion of Change"
ACE Staff
|
February 6, 2015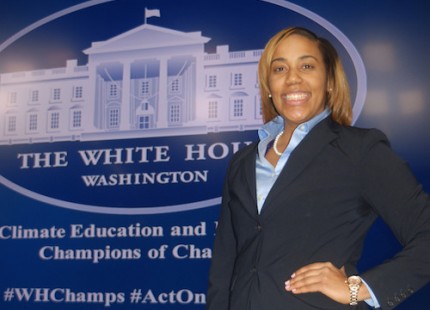 ACE is thrilled to announce that our very own Georgia Program Manager, Amber Nave, has been honored by the White House as a Champion of Change for Climate Education and Literacy. This prestigious award honors citizens who are taking extraordinary action to increase literacy and science-based awareness of climate change in K-12 classrooms and diverse communities across America.
Amber Nave is one of only eight national honorees. Now in her fourth year at ACE, Amber has educated more than 45,000 Georgia students on the science behind climate change, and trained dozens more as leaders to create solutions. She's best known for her digital media expertise and has organized media and storytelling workshops for youth at events like Power Shift.
Amber empowers diverse students across the state of Georgia to fight climate change in innovative ways, leveraging methods like digital media, video, and music. In her climate work, Amber has built strong relationships with partners in Atlanta, including Georgia Interfaith Power and Light, Clean Air Campaign and Citizens Climate Lobby. ACE is inspired by Amber's contribution to the field of climate education and literacy, and delighted to congratulate her on this accomplishment.
The White House will host a special event on Monday, February 9, at 1:00 PM EST to honor the Champions of the Change. Tune in to the live stream at www.whitehouse.gov/live. You may also join in the conversation on social media using the hashtags #WHChamps and #ActOnClimate. Read more about Amber and the other winners on the White House website.
Congratulations, Amber!