Arkansas student takes climate to school
ACE Alumni
|
April 7, 2010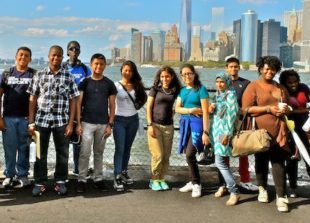 On Saturday, I had the opportunity to go to Focus the Nation's Clean Energy Forum in Jonesboro, Arkansas. John and I had been traveling to Arkansas for the past few months giving presentations all over the state, in hopes of inspiring students both to take action on their campus, and to attend this Clean Energy Forum!
I had the opportunity to meet Faith Mullins, Central High School student in Little Rock, as well as a member of the Little Rock Mayor's Youth Council. Faith has spent the past month and a half collecting hundreds of signatures from classmates and friends on ACE's Declaration of Energy Independence and organizing a van of students to travel up to Jonesboro the day of the Forum.
I was so inspired by Faith's motivation and dedication to the climate movement. She spoke at the very beginning, and delivered a heartfelt and impressive speech. Please see below for her words. She also asked tons of great questions of the panelists, and inspired her fellow students to join her in her quest to learn more about clean energy and take action in her community. Thank you, Faith, for your leadership!
Speech For Clean Energy Forum
My name is Faith Mullins and I am a sophomore at Little Rock Central High School. I have been working with the Alliance for Climate Education program known as ACE and the Little Rock Mayor's Youth Council to gather a passionate group of high scholars to come and be a part of today's forum. I'd like to thank this wonderful group for helping me out; they are a truly amazing bunch of kids.
I have always had this tugging in the back of my mind, telling me that I need to help. To help anyone and everyone that I can. I have always done little things, like volunteering at food shelters, the rice depot and other miscellaneous sites. I have also participated in big projects like becoming City Year's Young Hero of the Year and finishing my bronze award for Girl Scouts. But none of these projects have impacted me as much as working with the ACE program. Thanks to ACE I am now on a path towards what I've always wanted. Making a HUGE impact. Emily Adler ACE's national partnership coordinator, has encouraged me to do more than what I am doing now, and exceed my limits. I have huge plans for future projects focusing on the environment and I can't wait to get them on their way. The going green movement is what I've come to love and I plan to use this movement to change the world.
I have spent countless hours typing a never-ending stream of emails, calling person after person and convincing 200 plus students to sign a Declaration that they had never heard of before. All in all I have put tons of effort and time into getting just a small group of students up to this forum.

Part of what I've been doing these past few weeks is getting signatures on the Declaration of Independence from Fossil Fuels, originally written by 14 year old Alec Loorz. The Declaration reads:
We implore our leaders to build of a secure future, and to do all other acts and things which independent people may of right do to build a more sustainable and just society. And for the support of this declaration, we mutually pledge our commitment, our passion and our sacred struggle for equality and justice.
Our Goal is to present the signed declaration to Senator's Lincoln and Pryor in the next few weeks.
As you can see high scholars are passionate to raise their voices against issues facing the environment. Thank you for being here to show your passion as well.