Climate Leaders Gather in Sacramento!
Rebecca Anderson
|
February 23, 2010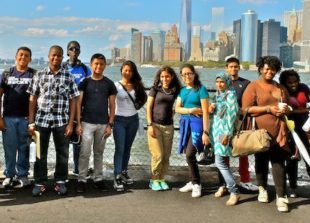 This is a guest blog entry by Veronica Yates, a senior at Union Mine High School in El Dorado, CA and the president of her school's Environmental Club and ACE Action Team.
10:00 am.
22 nervous, excited and motivated students gather on the soccer field at McClatchy High School. At first, we only stand by our friends, but by the end of the "name game" we're forced to expand our socialism. Especially when it came to the knot game. Challenged to tie the hugest knot we possibly can with each individual holding the end of a string, we work together to out-do the other team. Finally, we switched knots and had to undo the other team's knot- a very trying and challenging experience. From this however, came a lesson. It's difficult to undo problems once we've created them, and it requires tedious teamwork.
Fortunately, we also learned that anything is possible. Throughout the entire workshop, motivation, empowerment, the power to influence, expanded knowledge and overall excitement was bursting amongst all 22 of us. We not only learned that we had the power to make a difference amongst this world, but more importantly how to use our resources to do so. We were allotted to time to plan our own projects using the 7 step project plan.
By the voices and hearts of every person in the room, everyone was excited, knowing that all of these projects will assuredly continue to grow and even spark motivation and empowerment in other young peoples lives.
ACE Leadership Training! (Sacramento) from ACE Space on Vimeo.
3:00pm.
22 excited, empowered, motivated and influential students leave McClatchy to return to their pocket of the earth – now as prepared as ever to leave their permanent stamp on the actions of their peers.