Connecticut Climate Rockstar: Julie Blum
ACE STAFF
|
February 21, 2010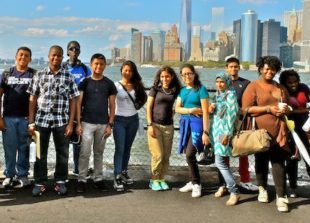 Check out this video of an awesome Conservation Song written by high school student, Julie Blum! Read about how she started the Energy Conservation Program at her local elementary school, middle school, AND high school. Julie is a student at Westbrook High in Westbrook, CT.
Conservation Song by Julie Blum:
Conservation Song by Julie Blum
Julie's words:
Last summer I was talking with the First Selectman in our town about some environmental projects I was involved in, and he asked me if I would be interested in joining a conservation committee he was assembling for the purpose of discussing ways to spend some grant money. We decided to use some of the money for energy conservation awareness in our schools.
We got permission from the superintendent and the principals and started plans for the elementary school and middle school. This included performing a skit, giving two ACE presentations, and beginning some student-run classroom energy audits involving some competitions.
I got a group of drama students together to write a skit to introduce energy conservation concepts to the elementary school kids, and I also wrote a conservation song to use in the skit. The skit presented basic facts about energy and conservation, and we had silly antics such as having one of the drama kids consume a bag of popcorn in a few seconds – popcorn dropping out of his mouth in a terrible mess – while another drama kid ate it really deliberately: an energy waster versus an energy conserver.
The elementary school kids seemed to really like it. We are going to give the teachers copies of the song so that they can play it in the classroom. It has movements that correspond with the words, which is great for little kids. ACE presentations were given to the middle school and the high school to kick off some initiatives there as well.