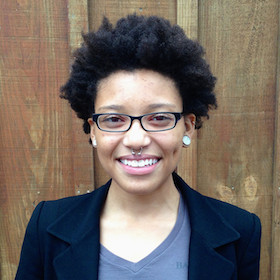 Nadia Issa
Action Fellow Alumni
Greater Boston Area
Nadia identifies as an Afro-Hispanic and Middle Eastern, Gender-Fluid/Two-Spirited Lesbian, who attends Boston Arts Academy in Boston, MA. At age 18, Nadia has already been involved in internships where they have worked with youth on social-justice issues (race/ethnicity), attended social-justice and environmental conferences and summits, and attended many radical demonstrations.
Nadia writes and performs their own poetry. Nadia is all about sparking and facilitating dialogue to challenge norms and firmly believes in verbal freedom and power. They are interested in educating and empowering youth through vital dialogue exchanged in safe spaces. Nadia intends to continue their artistry by transforming their artworks into social justice and environmental activism, whether that's through dance, poetry, visual art or music. Nadia hopes to impact their peers and the communities around them in the struggle for social, environmental and cultural betterment.
Nadia cares about climate change because they care about their home: the earth. Without Earth, human beings cannot exist, flourish and make purpose. Being involved in the climate movement has helped Nadia realize their power, youth's power, art's power, the power of radicalism.