Songs for the Climate Emergency
Quinn Pettit
|
August 19, 2022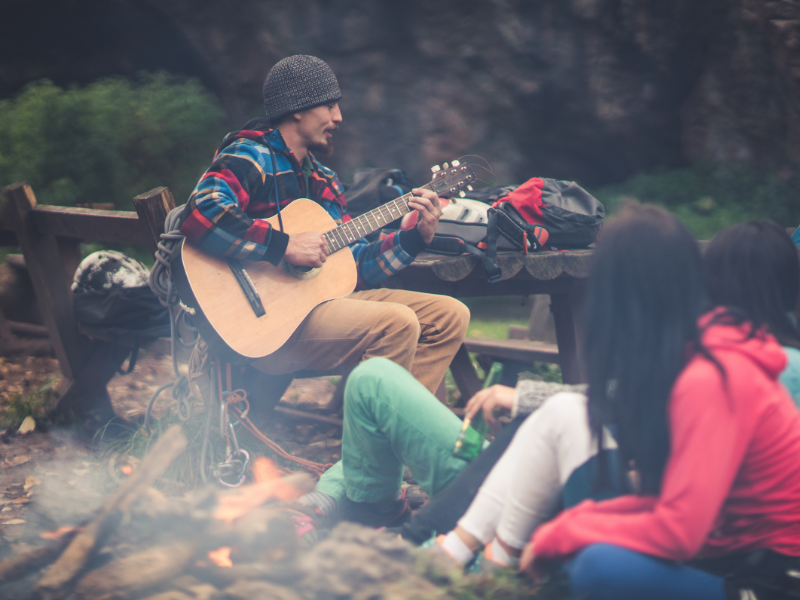 Throughout my life, I have always found comfort and company in music. At times when the gravity of the climate crisis has left me feeling overwhelmed, hopeless, and isolated, music has brought me solace, and affirmed that I'm not experiencing it alone.
Since stories can be told through lyricism and sound, the combination of the two uniquely captures the human experience. Because of its empathy-evoking ability, music is an essential tool for bringing people together and effecting social change.
From death metal to folk, musical artists from every genre have found ways to capture what it means to be a person coping with environmental existentialism.
Artists
When learning about how much human behavior has harmed the world, it's nice to remember that we got one thing right. Here are some songs about the environment that have moved me:
"Don't it always seem to go that you don't know what you've got 'til it's gone? They paved paradise, and put up a parking lot"
Joni Mitchell's Big Yellow Taxi is likely the most well known song with themes of environmentalism. This song became an environmental anthem as activism boomed in the 70s and was important in the formation of Greenpeace.
"Because a rainforest cries, everybody dies a little, I just wanna dance tonight
And I just wanna dance tonight."
NoName's Rainforest nods to revolutionaries and anti-capitalists. She uses her music to continually touch on environmental justice, anti-blackness, capitalism, police, and prison abolition.
"Splitting our families, caging the children Poison the water everywhere we living Flashbacks to them raiding the village"
Xiuhtezcatl Martinez's AMERIKKKA speaks on the U.S.'s foundation in racism and colonization, as well as climate change. In addition to being an incredible hip hop artist, he is an environmental activist known for being one of 21 plaintiffs involved in Juliana v. United States—a legal case where a group of youth sued the U.S. government claiming that the government violated the youngest generation's constitutional rights to life, liberty, and property.
He uses his platform to promote environmental justice, particularly in regards to issues affecting indigenous communities, and to pave the way for other youth activists. To him, climate justice means racial, social, and economic justice, questioning America's extractive economic system, and highlighting indigenous perspectives that prioritize a connection to nature. Through Xiuhtezcatl's work as Youth Director of Earth Guardians, his TED talks, and his speeches at the UN, he addresses the power of youth activism, acknowledging that ignoring the climate crisis simply won't be an option for his generation and generations to come.
"Thinking I should get all this dying off my mind
I should really know better than to read the headlines"
The Weather Station's Atlantic, in addition to the entirety of this 2021 album entitled Ignorance, includes environmental themes and touches on the burnout that comes from the overwhelming news. Tamara Lindeman of The Weather Station has indicated that she feels, "most art that's getting made today has something to do with climate change".
"Look at the magic of reality
While accepting with all honesty
That we can't know for sure what's next"
José Gonzaléz includes sounds of nature accompanied by acoustic guitar in his song Visions, pondering the future and reminding us that we're in this together.
"Living in the rising tide
Our light, a feeling that's moving
Runnin' on a million people burnin'
Don't cry, it's a wild time to be alive"
Natalie Mering, or Weyes Blood, writes Wild Time alongside the rest of the 2019 album, Titanic Rising, to grapple with existence in a changing world. The album cover shows her in her childhood bedroom that has been completely submerged in water. She uses the story of the Titanic to parallel the climate crisis.
"We are right now in the beginning of a climate and ecological crisis
And  we need to call it what it is
The 1975 opened their 2020 album, Notes on a Conditional Form, with a climate essay written by Greta Thunberg, with gentle piano playing alongside it. This band has additionally used their platform to shed light on the environmental impact of the music industry as well as insisted on making their tours more sustainable.
No words necessary
Some honorable mentions without words are:
Plastic Anniversary, an album in which all the music was made using noises that come from plastic materials to highlight humans' relationship with plastic.
Orca's reprise, where the artist Jayda G, a house artist and marine biologist, layers the sounds of orca whales into a beautiful ambient piece.
Mort Garson's album, Mother Earth's Plantasia, which allegedly helps plants grow.
Muir Glacier 1889-2009, an orchestral piece which aims to evoke empathy for the melting glaciers.
Climate Music's piece, Climate, a composition that correlates tempo, pitch, distortion, and compositional form to CO2, temperature, energy balance, and ocean ph to reflect climate variation from 1800-2250.
In addition to these wonderful artists, musicians such as Billie Eilish, Childish Gambino, Coldplay, Jack Johnson, Lana del Ray, Paul McCartney, Radiohead, Neil Young and many more, have used their platforms to speak on climate change. However, it is important not to lose sight of how grand the environmental impact of touring, producing, and even streaming music can be. As fans, it's important to hold our idols accountable, cherishing their artistic expertise while simultaneously questioning rhetoric and carbon offsets that may serve to absolve the most privileged of responsibility.
That being said, it is paramount in the climate fight to have people with such tremendous cultural influence echoing the demands of activists and scientists across the world. It is additionally essential to have celebrities validate the experiences of climate related mental health struggles that so many of us experience.
Here's some more music that has inspired, consoled, and uplifted me:
Join

our Youth Action Network