Exciting News from ACE'S Executive Director
ACE Students
|
November 3, 2010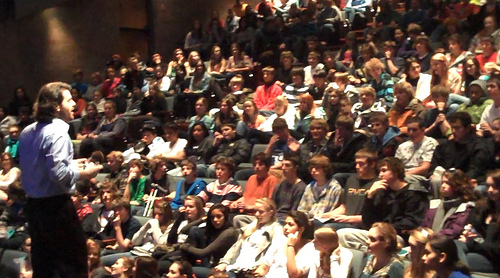 By Pic Walker, ACE Executive Director
The leaves are falling and the days are getting cooler but the ACE program is heating up. Our offices around the country are humming. We just surpassed 550,000 students and more than 1,000 high schools reached with our climate science assembly. I wanted to share a few highlights of ACE's programs from this past year.
ACE Works
We've already received hundreds of rave reviews about the effectiveness of our programs and now we have the data to illustrate our success. A recent study by Loyola University revealed that the ACE Assembly contributed to a 58% improvement in climate science knowledge. Students love our program and they're learning from it as well.
The study was conducted as a part of the Chicago Public School's Carbon Emissions Reduction Action Project. Students were asked basic climate science questions before and after the program, and overall, understanding of climate science jumped from 24% to 38%. There's a long way to go, but this a strong start.
Jayni Chase joins ACE Board
It's with great excitement that ACE announces Jayni Chase will join our governing Board of Directors.
Chase is the founder of the Center for Environmental Education and has served on the board of several leading environmental education organizations. She is currently spearheading two ambitious green school initiatives, GREEN Community Schools, which creates model green schools in cities across the country, and Energy Efficient Schools.
New for 2010-2011
We've always helped students take on climate-related projects, now we're helping them focus their efforts with tailored Project Tracks: Green Buildings, Stop Waste, Transportation and Raise Your Voice.
We chose these Tracks because they focus on areas in students' lives that account for the vast amount of US carbon emissions and because they directly affect students' lives. If you are a partner organization interested in working with us more directly on one of the tracks, please email Emily Adler: [email protected]
Thanks for your continuing support as we build and expand our program to educate, inspire and activate students about issues connected to climate change. Please contact me for more information or if you want to learn more about our efforts.
Happy fall,
Pic Walker
Executive Director, ACE