Connection and green-spiration in Oakland!
ACE Students
|
October 28, 2010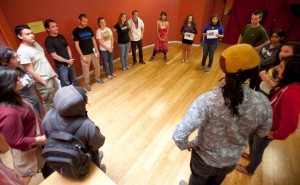 By Mia Szarvas, student at Analy High School, California, and ACE Field Correspondent
On historic 10/10/10, I attended a student training hosted by Alliance for Climate Education in Oakland, California. I pulled up to the one colorful building amongst a sea grey ones; the entire building was painted with larger than life murals. Inside I found AshEl and John, along with a few high school students.
We signed in, and each received an awesome reusable water bottle, and then indulged in the pastries and fruit while we waited for the others to get there.
Once everyone had arrived, we introduced ourselves by our name, grade, and high school.  At the time I wished people would say the name of the city their school was in, because I'd never heard of almost all of them. It was exciting, though; I was meeting people I probably would never have met otherwise, and they were all interested in the same thing as me.
John and AshEl created a relaxed atmosphere; I felt comfortable even though I knew no one in the room. We got to know each other better through a series of icebreaker games. Not only did it lighten up the atmosphere but we got to know what people were interested in.
It was really inspiring and encouraging to be in a room with around twenty other people my age who really care about the environment. And not only do they care, but they're going to do something about it. The air was electric with youth leadership, endless ideas and solutions, students fearless to ask people to work for a cause.
So often I feel alone as a teenager with a passion to make a real change, a huge change. I feel like I am the only one who really cares about the nebulous crises that are taking place in our world: floods, droughts, rising temperatures, water shortages, shifting habitat corridors…
But that day, at the ACE leadership training, I saw a roomful of people my age, who care just as much as me, and who have just as much motivation as me to make a change.
The training gave us information about climate change, instructions for how to tap into the endless resources ACE provides, and set up an invaluable student network.
Not only is the student network a valuable resource for me, because I can ask other students in the Bay Area for advice or support on projects, but it is inspiring to know I'm not alone in this fight. My generation is full of leaders, and we can all work together to really bring about a green revolution.