As Tall As Lions rocks DOT
ACE Alumni
|
April 6, 2010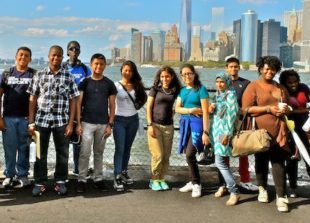 ACE teamed up with a hot new band called As Tall As Lions to take DOT (Do One Thing) to new audiences across the country. They're kicking off their headlining tour tonight in Chicago and we'll be giving away concert tickets to students in Chicago, Denver, Northern California, Atlanta, and Boston!
Meet the band, learn about the project by watching this sweet video:
They'll be talking to their audiences about climate change and inspiring DOTs all across the country – their DOT is to kick the bottle habit: no plastic water bottles on tour, only reusable!
Keep up with the band on this blog and their Facebook page.