Going Clean and Green in the Hoosier State
ACE Alumni
|
March 29, 2010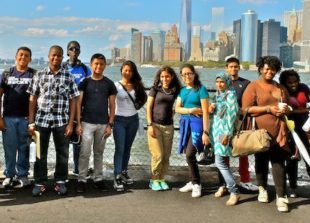 This past winter, I've been doing presentations in Central and Southern Indiana, home of the Hoosiers. It was incredible to watch the enthusiasm students there had for the environment and see it grow. I also have to say, what a great season to be presenting the home state of the Colts.
Recently, four amazing students from Bloomington got together to create a "Jobs and the Clean Energy Race Forum," where local green leaders have a space to answer the public's questions on this super relevant topic. ACE is so excited to be supporting these students in their efforts to raise their voices!
Below, Clara, Yasha, Ben and Abby give you a glimpse into their world and what (and why!) they're doing to change it. Hopefully, it'll inspire you to do the same!
Clara, Bloomington HS North Senior
"I have always had a passion for the environment and know I want to pursue a career somewhere within the fields of environmental studies. When ACE came and spoke at my school I realized that I needed to take this passion and inspiration I felt and actually start putting it to use.  This experience is a great opportunity for me to dip deeper into the environmental world and help prepare me for the college experiences I will have with further study of these topics. It helps me gain true experience and would contribute to me being more prepared for tasks taken on in the future. This is also a chance to make a very positive impact on my hometown of Bloomington. I love Bloomington and am honored in helping it become a better, greener place."
Yasha, Bloomington HS South Freshman
"My name is Yasha and I am a freshman here at Bloomington High School South. I am very excited to take this position in developing and setting-up a Clean Energy Forum for Bloomington, IN. I am honored to be a part of such a great cause because I have a strong viewpoint when it comes to being environmentally friendly. I try my best to take part in maintaining a healthy environment and make an effort to tell others to take part in it as well. This is an outstanding opportunity to encourage my family, friends, and classmates to help create a more sustainable society and make the world a better place for us. It is our actions that will determine the future and it is important that we take a stand on this matter as soon as we can."
Brian, Bloomington HS North Senior
"My Name is Brian, I am a senior at Bloomington High School North. I am a part of the swim team and lacrosse team. I am interested in setting up a forum because I think that the community should be involved in helping their own city. The people who live in this city should contribute what they can to create a clean and greener earth. The youth are especially important in this event because it gives them a chance to raise their voice against fossil fuels and try to help their community. I believe this is really important to our town as well as our planet."
Abby, Bloomington HS North Senior
"My name is Abby and I am a senior at Bloomington High School North. For as long as I can remember I have been taught about the importance of coexisting with and understanding our environment. Environmental science and the outdoors are great passions of mine and I hope to increase my knowledge and experience in the future. In my daily life, I try to be as environmentally conscious as I can be. I hope that through my actions I am encouraging others to be more aware and to do what they can to be as green as possible. When I heard about the opportunity to help organize this Clean Energy Forum in Indiana, I realized it would be a great chance to channel my passion, gain experience and to learn more along the way. I believe that this forum will be a great success and I am proud to be a part of it."