Unique Audience: Sea Lions & Students!
ACE STAFF
|
March 5, 2010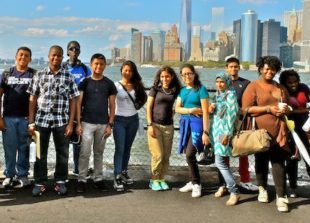 Last Saturday, I got to do the ACE presentation at the Mystic Aquarium in Mystic, Connecticut, RIGHT IN FRONT OF THE SEA LION POOL!! It was super cool!!
The students – and the sea lions – were a great audience, clapping, cheering, and making quite a ruckus! The sea lions got pretty enthusiastic about raising their voices when I got to the DOT section, telling all of us about their commitments – or probably their need for us to commit – to take on climate change by barking through the whole section.
The students rose to the challenge, texting their DOTs to the ACE line. (Send us yours in too by texting the word "DOT" to 30644!)
Why was I doing this crazy presentation? ACE was the featured speaker at the Keep Connecticut Cool Conference, a conference for youth teams competing on the awesomeness of their green projects in Connecticut. Pretty sweet!
There were students from over 20 schools at the event, plus the 4 adorable sea lions, at the event. The sea lions spent their day performing, eating fish, and wowing visitors with their swimming skills; the students spent the conference learning how to design successful green projects and hearing from groups that have already done amazing things – ranging from composting, to reusable lunch trays, to raising money to buy rainforest land in S. America.
Go Connecticut Climate Rockstars! Lead the way to a clean, green future! The sea lions will thank you!!