ACE on the way to the Winter X-Games
ACE Alumni
|
January 25, 2010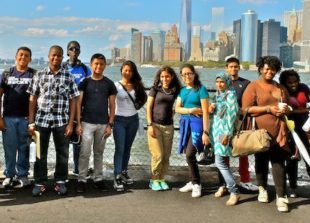 ACE Educators Bridget and Michael are on a march to the 2010 ESPN Winter X-Games, in Aspen, Colorado! We're going to be delivering the ACE presentation to over one thousand students in 5 schools in the Roaring Fork Valley and rockin' it at the X-Games on Thursday!
ACE has teamed up Disney, ESPN, and the Aspen Ski Co for the Winter X-Games to raise awareness about the science of climate change and the opportunities for young people to take action to stop it – we want to make sure there's always going to be snow to shred in Aspen. Keep up with us at acespace.org/blog
ACE is launching the DOT – Do One Thing – campaign at the Winter X Games. What are you doing to lower your emissions and raise your voice? What's your DOT? Tell us by texting "DOT" to 30644!
We'll be blogging all week with X-Games athletes, local high school students from the beautiful Roaring Fork Valley, and of course, from the X-Games on Thursday and Friday! Check out the blog for daily updates and if you have any questions or want to give us a shout out, make sure to shoot us an email!