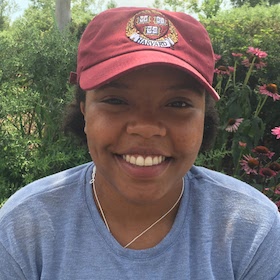 Zora Hall
2016-2017 Action Fellow
New York City
Zora Hall is a 16-year-old New Yorker attending Columbia Secondary School in Manhattan. She is an avid sports player, partaking in varsity and club rugby, varsity volleyball, and tournament-level tennis. Currently, she also attends classes at Harvard University, majoring in Environmental Policy and Global Justice.
Zora discovered her interest in the environment at the age of 13 when she first joined her middle school's Green Team. After a year, Zora knew that she needed to expand her knowledge in all aspects of environmental and climate science. From then on, she worked every summer and throughout the school year to raise awareness of the increasing concerns of climate change within her own community. She had the opportunity to travel to the Ecuadorian Amazon to study the impacts of climate change on indigenous peoples and places, seeing firsthand the urgency of the issue on the most vulnerable.
The aspect of climate change that is most interesting to Zora is its threat to human security. She's interested in the impact on not only populations around the world, but within our own country, and her community in New York. Joining the ACE Fellowship allows Zora to be part of systemic change in the community, raise awareness, and advance her education within the field.
By the end of the Fellowship it is important for Zora to have made long lasting connections with the people within the program, as well as people within the community. She is passionate about being able to develop her own skills, while also impacting others.