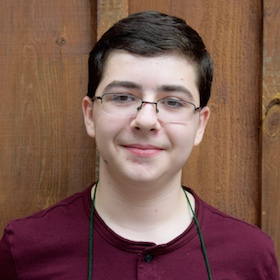 Zach Jacques
Action Fellow Alumni
Greater Boston Area
Zach Jacques lives in Boston, Massachusetts, and is currently a sophomore attending Boston College (BC) High School. When he is not in class or doing school work, he enjoys spending his time in the school theatre. He is involved and helps out in the production of the many school plays; he fills both the roles of an actor on stage and a tech worker operating the lights off stage. He also spends his time at the Green Eagle Club, a newly formed club at his school that strives to work for a better future for the school community. This club has discussed and implemented ways students at BC High can improve the quality of their environment through the setup of recycling stations, compost bins and a rooftop garden, to name a few.
Zach's first major awareness of our direct impact on the environment was through his seventh grade Interdisciplinary Unit. Zach, along with his fellow classmates, studied and learned about the environment in every class. Whether it was math, French, or history classes, they learned how the environment plays an import role in every aspect of our life. Therefore, it is our job to protect it.
Zach's goal after high school is to continue his education with a focus on the studies in the environmental sciences, with the hopes of achieving a career as an environmental engineer.