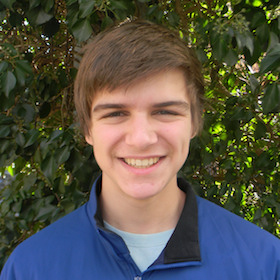 Wade Wilson
Action Fellow Alumni
North Carolina
Residing in Chapel Hill, North Carolina, Wade is an eleventh grader who attends Trinity School of Durham and Chapel Hill.
Wade cares about climate change because he knows that all of the scientific evidence is there, and sees that we have no time to waste on the issue, or else we will be subjected to more heat related deaths, hurricanes, sea level rise, forest fires, and species extinctions.
During Wade's sophomore year of high school he took a seminar style class in which one of the topics was climate change and its effects on civilization and life. The information he gained from the class inspired him to devote greater attention to the issue of climate change. Wade hopes to learn ways to be more active in combating climate change, and learning effective ways to convince others that combating climate change is important. He also has a particular interest in learning more about renewable energy technologies and how these sources can be adapted by individuals to lower their carbon footprint. Wade's other interests are playing the violin, guitar and mandolin. In addition, he loves to watch and play sports and be outdoors – paddling, rock climbing and backpacking.