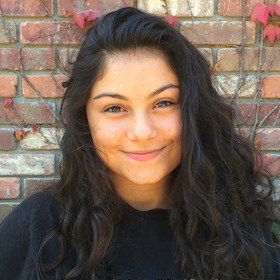 Valerie Santana
Action Fellow Alumni
Los Angeles
Valerie was born in Los Angeles, California and is currently living with her mother, two brothers, and two sisters in South Central, California. She moved to South Central during her freshmen year and attends Dorsey High School. She joined the Eco Club to work for a better environment and because her teacher, Robert Jeffers, introduced her to the many reasons we should care about the environment.
The love of nature and smiles it brought to people's faces she cared about were life changing. She was motivated to continue making change in her community on an ongoing basis.
Valerie is President of Dorsey High's ASB (Associated Student Body) and hosts beautification days on her campuses on Saturdays. She's also the soccer captain, an Eco Club member, the YES Audubon Leader, an LA Audubon Restoration leader, an LA Audubon Intern, a Santa Monica Aquarium volunteer, golf manager, Student Run LA member, and now an Action Fellow with ACE. Juggling all these incredible experiences only grows her love for the work she's doing. She wants change and awareness to spread throughout her community.
Valerie is a senior, hoping to attend University of Southern California in fall of 2015. She wants to major in Marine Biology and minor in Communications. Her long term goal is to be the Mayor of Los Angeles and meet Zac Efron. She loves camping, hiking, tubing, cliff jumping, jumping, swimming, jumping, shopping, EATING, playing soccer, listening to music, and lip syncing. She also loves animals, long boarding, and Snapchat.