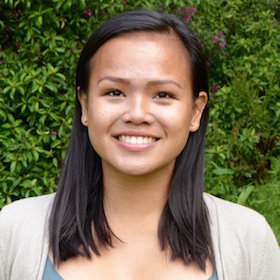 Trisha Madayag
Action Fellow Alumni
San Francisco Bay Area
Trisha is a senior at Half Moon Bay High School. She was originally born in the Philippines and emigrated to the United States with her family when she was seven years old. While in the United States, Trisha has lived in South Carolina and California. With the ocean being so near and dear to Trisha throughout the span of her life, it is a big reason for her interest in climate change and the ACE Action Fellowship.
For Trisha, the Action Fellowship's mission is aligned with her own. She is passionate about improving the state of the environment and the quality of human life, but her favorite topic to discuss and debate about is environmental justice. The problem of environmental racism in Flint, Michigan is an issue that she is actively following and feels passionately about advocating for.
As a teenager trying to make a change in the world and its environment, it is sometimes hard to have your voice heard. Trisha knows actions speak louder than words and is attempting to have her actions speak her message by doing what she can, like conducting monthly beach clean-ups. She is ecstatic for the platform that the Action Fellowship will help provide for her personal voice. The Action Fellowship will provide teenagers the aid and support they need to spread the message of climate action and environmental protection, and Trisha is excited to experience it all with the other ACE Fellows.