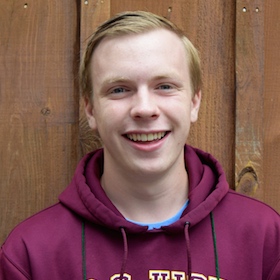 Pat Walsh
Action Fellow Alumni
Greater Boston Area
Pat Walsh lives in Watertown, Massachusetts and is a current junior at Boston College High School. In the enterprising atmosphere of Boston, Pat has always had a passion to make a change in other people's lives. He also loves being outdoors to bike, snowboard, swim, or just hang out. That passion mixed with that love of the outdoors would spark his interest in climate justice and environmental sustainability. With its connection to the economy, to politics, and to human rights, he views climate change as the single biggest threat humanity faces today. Since the choices made today will affect the future, Pat believes that this generation must rise and solve this climate crisis to protect future generations.
With this passion, Pat helped to found his school's environmental club, the Green Eagles, and currently leads the club in various initiatives around the school.
At school, Pat always gets in early and always stays late. He is part of Tech Crew for the school musicals, Student Council, and Model United Nations as an officer. When he is not at school, Pat can usually be found bagging vegetables at Russo's (a produce market in Watertown).
Pat is extremely proud to be part of the ACE Action Fellowship this year, and is very excited to help save our gentle Earth!