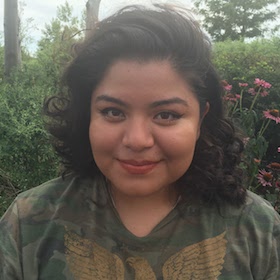 Paola Hernández
Action Fellow Alumni
New York City
Paola Hernández is from New York City and attends Notre Dame School in Manhattan as a senior. Her extracurricular activities include playing basketball and coding. At her church, she is an altar server and a liturgy reader.
Paola cares about climate change because she has already seen the damage that it has done. She has seen how animal species have been devastated by climate change in their own ecosystems, and how climate change is affecting seasonal variations. Climate change is an important issue for Paola because when she goes to Mexico to visit her family, who live in the mountains, she experiences extreme air pollution. She feels compelled to change this and to make the air more breathable for her family.
Paola hopes to see systemic change brought forth by our elected leaders and wants to be a part of making that happen. She thinks we can learn a great deal from our international brothers and sisters. She learned recently that Mexico City has a policy to limit the number of cars on the road at certain times, based on license plates. These types of policies may help the United States similarly by reducing harmful air and carbon pollution.
Paola believes that climate change is something that will affect people for all generations to come, and that we can't wait any longer to create societal change.