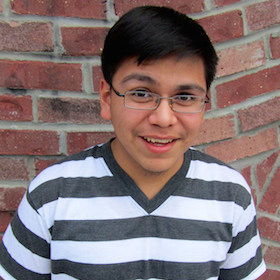 Oscar Garcia
Action Fellow Alumni
Reno-Tahoe
Oscar Garcia is originally from Los Angeles, California and now lives in Reno, Nevada. He is a senior at Innovations High School. Oscar enjoys hiking in the mountains, weight lifting, and playing soccer. Oscar feels that he has a strong connection with nature and wildlife.
Oscar cares about climate change, as well as air quality, because he has friends and family who have asthma. Oscar's young nephew had asthma attacks constantly because of the air pollution in Los Angeles and Oscar saw a close friend suffer an asthma attack at school.
Oscar is grateful for the opportunity to take action on environmental issues. Rebecca Anderson first introduced Oscar to Idle-Free Schools, a program that works to reduce and ban engine idling at local schools. Oscar has testified to the EPA to support a strong ozone standard, as well as presented in front of the Washoe County School District Board of Trustees about Idle-Free Schools. He is currently helping to write a district-wide policy on Idle-Free Schools for the Washoe County School District.