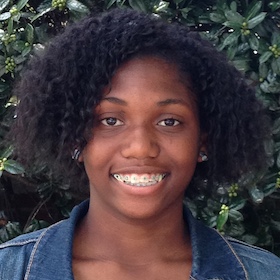 Mya Pratt
Action Fellow Alumni
North Carolina
Mya Pratt is 15 years old and attends Broughton High School in Raleigh, North Carolina. She is a member of the marching band at her school, and is also very artistic and likes creative projects.
Mya wanted to join ACE because she felt that she wanted to start making a difference in the world and preserving the earth's wonderful treasures. Climate change is important to Mya because there are millions of types of living things and she believes the world needs a stable climate to support all those creatures for generations to come. She is especially interested in renewable energy and how it can replace the use of fossil fuels.
Mya believes people her age should be involved with the climate movement because youth are  the future and we have to make the earth a better place. Personally, she hopes she can help spread the word about climate change through her art, songs, and dancing.