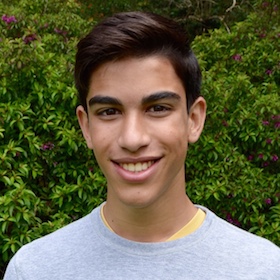 Matthew Abranches Da Silva
Action Fellow Alumni
San Francisco Bay Area
Matthew Abranches Da Silva, a high school senior at St. Ignatius College Prep, is a passionate artist and student of science. At St. Ignatius, Matthew is the co-president of the Visual Arts Society, an editorial board member of the school's art and literature magazine, and a painter for school plays.
Outside of school, Matthew pursues art and science in his own unique ways. In the area of art, he has entered and won multiple art competitions and paints with the Precita Eyes Mural Company in San Francisco. Matthew was able to utilize his art skills while volunteering at the San Francisco Jewish Home, where he taught and assisted in art activities with the home's elderly residents. Matthew has also developed a fascination with plants and the environment. This interest has led him to create and develop various environmentally-related projects, such as his photobioreactor, which he uses to grow and test algae out of his own bedroom.
Matthew decided to join the ACE Fellowship because of his deep interest in plants and nature. He understands that plants, ranging from smaller coastal species to larger agricultural fields, are deeply impacted by the effects of climate change. He also recognizes that the earth, which inspires him in both his artistic and scientific pursuits, is being destroyed by climate change.
Matthew hopes that his participation in the ACE Fellowship will give him a platform in which he can contribute to the reduction of harmful carbon pollution. He believes that a just shift to renewable energy is the key to an environmentally-friendly future, and understands that a systematic change by our elected leaders is vital. He hopes to use his art and resourcefulness to innovate and inspire an environmentally-stable future.