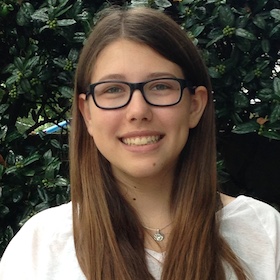 Lindsay Morgenstein
Action Fellow Alumni
North Carolina
Lindsay Morgenstein lives in Cary, North Carolina where she is a junior at Cary High School. Lindsay cares about climate change because she believes that while many people know about climate change, few actually do anything to stop it.
Lindsay wanted to join the ACE Fellowship because ACE gives teens an opportunity to learn and make change, despite their young age. She knows that teens are a vital part of creating change because of their knowledge, passion, and huge social network. By utilizing these, the leaders of tomorrow become the leaders of today.
Beyond school, Lindsay spends much of her free time as President of her youth group, teaching Hebrew three days a week, and as a Social Action Chair in NFTY-MAR, a Jewish youth organization for teens between North Carolina and Maryland. She is also an assistant coach for tennis clinics for young adults with disabilities, and is an active member in her school's Club Unify, a club where teens with and without intellectual disabilities can meet and just have fun. In her future, Lindsay plans to start a nonprofit to continue working on climate change activism.