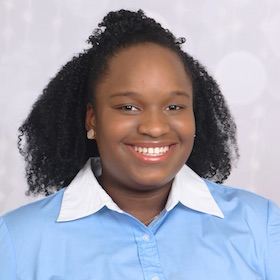 Kelcey Montimes
Action Fellow Alumni
Greater Boston Area
Kelcey Montimes is a Haitian-American high school senior and Senior Action Fellow from Everett, Massachusetts. She attends the Pioneer Charter School of Science. She has always loved the Earth and has been drawn to the outdoors since childhood. Kelcey is a Senior Action Fellow who believes that ACE is a critical part of the solution to fixing the environmental mess we find ourselves in. She wants to further her knowledge about climate change so she can teach other people about the harsh realities we are facing as a result of burning fossil fuels and degrading the environment.
Kelcey is a lover of music, art, collaging, and photography. After school, she is enrolled in International Club where she learns about different music, cultures, traditions, and foods. In her free time, she is a volunteer at Housing Families Incorporation, where she works with underprivileged kids.  Kelcey is also a Live Blue Ambassador at the New England Aquarium, where she helps to remove invasive species and restore habitats.
Kelcey loves to travel and try new things. She has been to London, France, Italy, and Germany and has tried indoor skydiving, kayaking, surfing, rock climbing, and paintballing. Above all, she is a firm believer that everyone should coexist in equality and respect each others' beliefs.