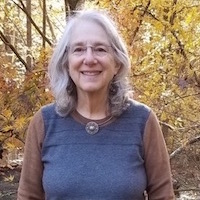 Katherine Seligmann
ACE Supporter Honoree
Cathi first heard of ACE when she received a call in 2009 from her nephew, Pic Walker, asking if she knew of any schools in the Raleigh, NC area that might be interested in a free assembly on the science of climate change. Impressed after seeing the assembly for herself at a local high school, she decided to support ACE to maintain and expand it's presence in North Carolina. Cathi has continued to support its mission, evolution and the expansion of its impact.
From early childhood, mucking about in the mud, playing with earthworms, frogs and grasshoppers, her love of nature and concern for the environment was nurtured, encouraged and fostered by frequent walks in the woods, hunting chanterelle and building moss huts.
After receiving her BA in Biology from Colby College she worked as a research assistant in laboratories in Boston, New York and San Francisco. Interspersed with her research years she explored her love of arts through macrame, weaving and pottery. She delighted in becoming a parent at 40 finding it her most compelling, rewarding and fun role.
Today Cathi finds great pleasure working closely with her daughter to fund work in the intersections of science, nature, art, education and justice. In particular, Cathi believes in creating space for people to think big about their work and is passionate about supporting environmental organizations as they engage the diversity of strategies and allies that move the needle to solving the problems of climate change.