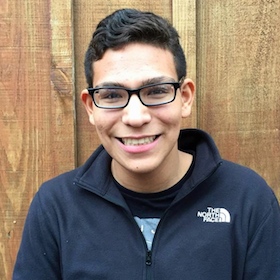 Jhonatan Perea
Action Fellow Alumni
Greater Boston Area
Jhonatan Perea lives in Chelsea, MA and is a senior at Chelsea High School. Jhonatan has been involved with the Interact Club of his school, organizing and participating in community service activities. He is part of the Environmental Chelsea Organizers (E.C.O), which advocates for youth empowerment and environmental justice. Currently he is working with the Chelsea Collaborative to plant 2,500 trees in his 2 square mile city.
When Jhonatan realized that some of the core issues his community faces will make it one of the first to experience the full effects of climate change, and when he realized how much damage the world is headed toward as a whole, he became devoted to fighting climate change.
Jhonatan feels his fight stems from the size of this issue. Climate change will affect everyone in some way, but it will start off by hitting poorer and more diverse communities first. In Jhonatan's mind, it's key that we try as hard as we possibly can to slow climate disruption so that no one has to suffer.