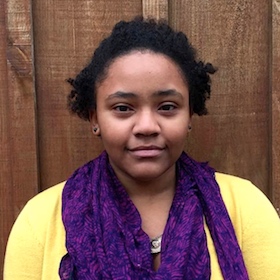 Jasmyn Mitchell
Action Fellow Alumni
Greater Boston Area
Jasmyn Mitchell lives in the heart of Boston, MA and is a junior at Wellesley High School. She enjoys international cuisine, hanging out with friends, and everything relating to her community.
As an activist, Jasmyn is particularly interested in focusing on climate justice, which directly relates to the equity of minorities. Jasmyn was first exposed to the climate crisis as a camper at the Boston Nature Center, where she now works as a volunteer.
Even though Jasmyn was active to in the climate movement before ACE, the ACE Assembly inspired her to take her action to new heights and she is thrilled to have the opportunity to participate in this year's Action Fellowship.
Outside of ACE, Jasmyn is constantly seeking out opportunities to engage people in climate discussions and has recently launched a climate action club at her school. This year the club plans to focus on starting a garden, launching a compost system, and working at the advocacy level to make Massachusetts the first state in the country to divest from fossil fuels.