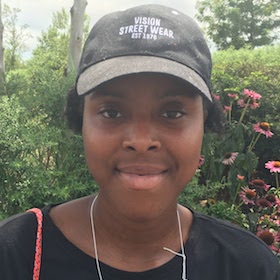 Ijeoma Nnadi
Action Fellow Alumni
New York City
Ijeoma Nnadi is an ambitious young lady who attends school at Bard High School Early College in Manhattan. She is currently a junior and is from Queens. Climate change is important to Ijeoma and through the ACE Action Fellowship she wants to learn more about what she can do to create change in her own community. She's especially passionate about education and would love to educate her fellow community members on climate change.
Ijeoma knows that with an issue as large and complex as climate change, it is necessary for everyone to work together to solve it. Ijeoma joined the Fellowship after working with last year's class of Fellows in New York, and experiencing their dedication and leadership on climate. Ijeoma is looking forward to meeting people just as dedicated as she is, to help create meaningful mass change on the issue. She is also looking forward to attending rallies for renewable energy and organizing her community members to turn out for climate justice.
In addition to saving the planet, Ijeoma is on the track team and plays volleyball. She also loves to help out at her local church in her spare time.