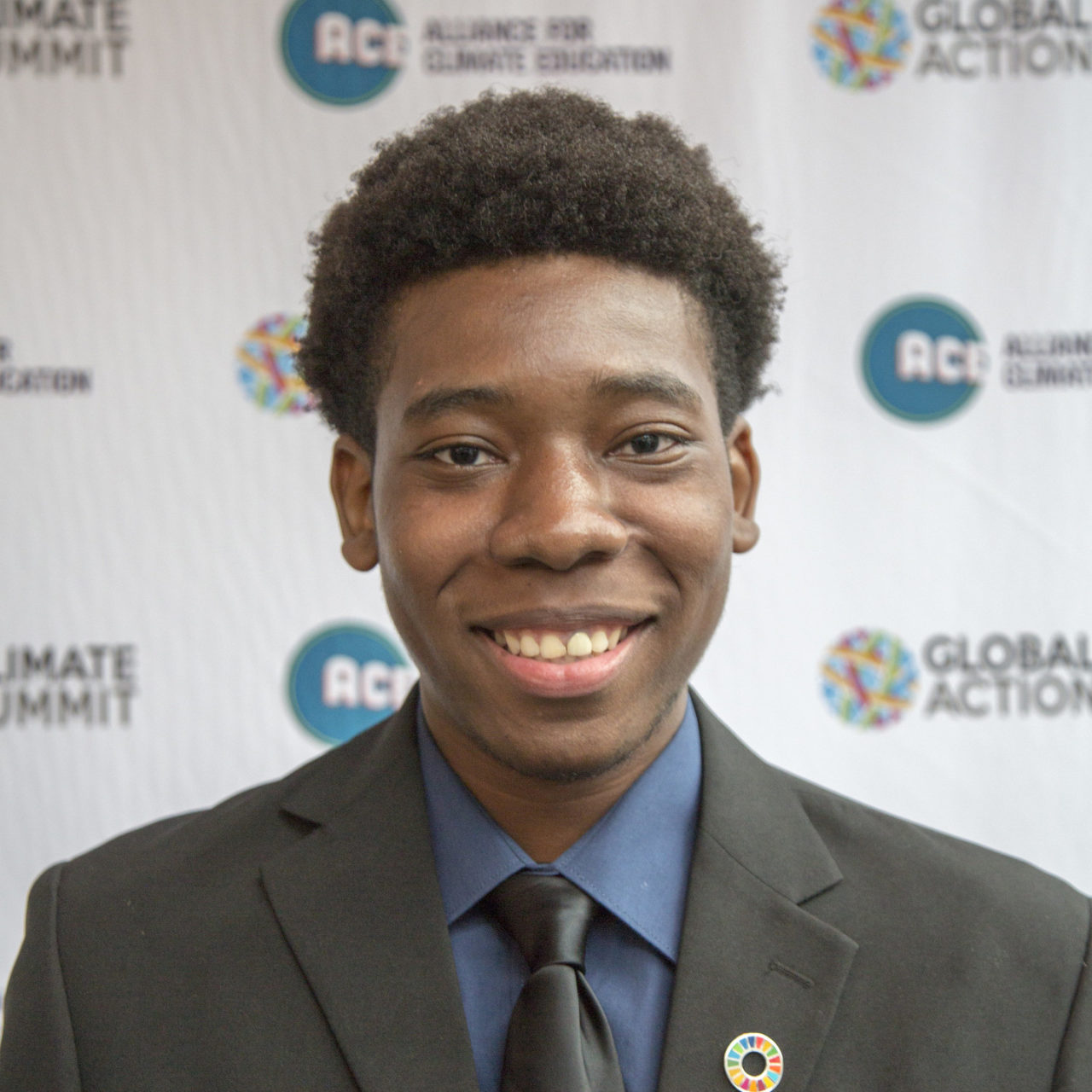 Hakim Evans
Youth Fundraising Advisory Board
New York
Hakim Evans lives in Queens, New York and recently graduated from Preparatory Academy for Writers.
Hakim, inspired by President Barack Obama for his leadership on climate change, decided to pursue his interest in climate leadership by joining the ACE Action Fellowship. Hakim has a deep interest in public health, and the intersections of climate change and environmental justice. Since joining ACE, Hakim played a role in NYC Climate Week, joining Presidents, Prime Ministers, and other world leaders at UN Headquarters in New York City for the UN Paris Climate Change Agreement Ratification Ceremony. Hakim was part of a historic moment as a representative for youth taking action on climate change around the world. Hakim had the opportunity to speak with some of the world's premier climate change experts and activists in the UN's Sustainable Development Goals Media Zone. In a discussion with the UN Foundation's Chief Communications and Marketing Officer, Aaron Sherinian, Hakim shared what he hopes youth will bring to the global fight for climate action. Hakim has also interviewed Senior Director for Climate Change at the World Bank, John Roome, as well as other high-level climate leaders.
Hakim was selected, as part of the United Nations Paris Climate Change Agreement Ratification Ceremony in New York City, to join a Youth Circle discussion on sustainability with youth from around the world. The Youth Circle event, titled "Sustainability: Our Shared Responsibility," was hosted by the United Arab Emirates (UAE) Ministry of Climate Change and Environment during Climate Week NYC and featured over 30 young people and high-ranking UAE officials. The goal of the Youth Circle was to bring youth together to "interact and discuss issues related to sustainability and put forward their ideas about their important role towards achieving the 2030 Agenda."
Hakim has met with local and national elected officials to advocate for commercial wind energy in New York City as part of the NY Renews coalition and has co-hosted a Youth Climate Summit to further climate education and awareness within his local community in New York. As an ACE Fellow, Hakim hopes to gain experience in the fields of climate education and advocacy. His deep passion for advocacy and strong belief in a moral obligation to solve climate change fuels his drive to ensure that his community is educated and resilient. His personal experience feeling record-breaking warm temperatures last year further encouraged his interest to pursue a Fellowship with ACE.
Hakim is also involved with NYC Smoke-Free Reality Check where he helps to combat the tactics of tobacco marketing directed towards youth within New York City and across the state. When he isn't participating in extracurricular activities, Hakim likes to explore, travel, listen to music, and hang out with friends.