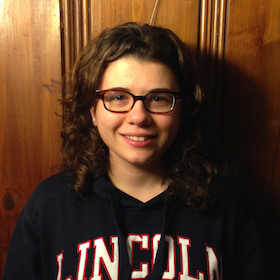 Grace Caltabiano
Action Fellow Alumni
Greater Boston Area
Grace Caltabiano lives in Sudbury, MA and is currently a senior at Lincoln-Sudbury Regional High School. Grace loves everything that is marine biology and has worked at the New England Aquarium throughout her high school career as a visitor interpreter and animal caretaker. Though Grace loves all of the marine critters at the Aquarium, she has a special place in her heart for the sea turtle Ari, who is one of the Aquarium's most endangered species and most threatened by climate disruption!
Grace's interest in climate change began at the Aquarium when she enrolled in the ClimaTeens program. Here she had the opportunity to learn the ins and outs of the marine impacts of the climate crisis. From there, her interest was turbocharged after hearing a galvanizing speech by a local climate activist who made a strong moral case for climate action that drew upon the principles of social justice.
Today, Grace has grown into a strong climate leader. Her recent exploits include co-founding SOCAN (Student Organized Climate Action Network), lobbying at the Massachusetts State House as part of Global Divestment Day, and testifying before Boston City Council about the importance of divestment.