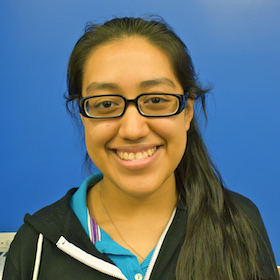 Emily Martinez
Action Fellow Alumni
New York City
Emily was born in Manhattan, and has lived there all of her life. She attends the High School for Environmental Studies and will be graduating in June 2016. She loves to do many activities outside of school such as taking time to learn new music techniques and working with school clubs and organizations to learn from experiences she wouldn't otherwise encounter. She participates in her school's environmental club, the Young Environmental Stewards (YES) Club, where she gets to experience new ways to garden and how essential composting can be. Emily is part of her school's National Honor Society program, participated in her school's Sophomore Internship where she was trained to be a TA and tutor for chemistry. She has also been active in her school's government for all three years of high school and will continue to participate in Leadership class until she graduates.
During her free time, she is a teacher assistant for chemistry lab, helping young students expand their knowledge in chemistry. In seeking new opportunities for learning and growth, she chose to work with CAMBA's Teen RAPP program (Teen Relationship Abuse Prevention Program) in the summer of 2013. During the summer of 2014, she sought out the opportunity to work with ACE and Global Kids as an Action Fellow, where she has already seen the impact youth can make, has learned new ways to communicate, and found that if you work hard and long enough, you can actually make a huge difference.
Emily cares about climate change for the sake of future generations of all types of species. One thing she has done to fight climate change is participate in the YES Club, where she has helped organize activities such as composting. She also contributes ideas from the YES Club to student council meetings to get the school involved. In the future, she would love to travel to Australia because of the beautiful scenery and architecture! One activity in particular she would love to do in Australia is to swim with dolphins!