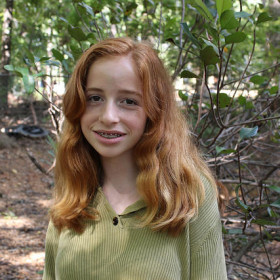 Ember Penney
North Carolina Action Fellow
North Carolina
Ember Penney is a sophomore at Woods Charter High School in Chapel Hill. She is from the small town of Pittsboro, North Carolina. At her school she participates in a variety of clubs such as Model UN, Envirothon, Science Olympiad, Key Club, and Sustainability Club. Ember also competes in sports including Cross Country and Track and Field.
Ember lives on the Haw River, which is part of the Cape Fear river basin. Growing up, she and her family would wade in and explore the river almost every day. Unfortunately, as she got older the river would often flood. Because of this, Ember and her sister would have to stay far from the river for days on end. This is when Ember's parents first started teaching her about climate change and how it contributes to extreme weather. Climate change is such a pressing issue for her because it affects every country on Earth. She believes that every country should be incorporating renewable energy sources into their societies. She knows that what you are doing and what you are not doing right now to further climate change will impact people from all around the world and for generations to come. She views climate change as an issue that the whole world should be collaborating on to solve. She hopes to serve on the United Nations Climate Change Secretariat in the future.
This past Summer, Ember volunteered as a counselor at a summer camp for elementary school students at the North Carolina Botanical Garden. She loved watching the children learn about and take part in the natural world. She believes that citizens should learn about the environment at a young age, so that they feel connected to it throughout their lives. This is why she thinks the Ace Fellowship Program is so important, because youth need to be the ones that are at the forefront of this issue. If youth are not advocating for and doing everything they can to prevent climate change now, they will be the ones living through the impacts as adults.