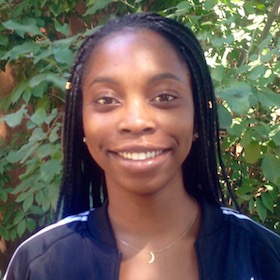 Chiamaka Obilo
Action Fellow Alumni
Greater Boston Area
Chiamaka is a high school senior at Boston Latin Academy. She is a Boston native and grew up in a large Nigerian family. She remembers walking around the city as a youngster and smelling pollution — something she still dislikes about Boston. She wants to work to change to make the city cleaner.
Chiamaka discovered her interest in climate change in a peculiar way. Growing up, many people called her Chia for short, after the the Chia Pet. Her nickname sparked her familiarity with plants and ecology. Since then, she has deepened her interest in climate change by taking AP Biology and a green technology course at MIT.
Chia believes that we must act to fight climate change because it threatens the health and sustainability of the entire planet. She decided to join the ACE Fellowship because the challenge of combating climate change will be her generation's responsibility. She believes that climate change can be fought by educating people and helping them understand the science behind the issue.
Chia is passionate about environmental justice and thinks it is important to keep elected officials in check. She enjoys being part of the ACE community and connecting with other students who are as passionate about climate change as she is.