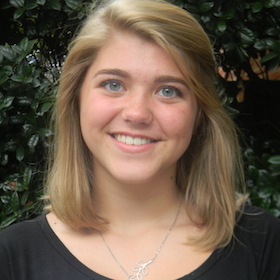 Caroline Blythe
Action Fellow Alumni
North Carolina
Caroline Blythe is a sophomore who attends Woods Charter School in Pittsboro, North Carolina. She is a dedicated member of the Envirothon team, which she has participated in for seven years. After acing the Regional and State competitions, her team attended the 2015 National competition as the representatives for North Carolina. She is also an active member of Debate and Science Olympiad, and enjoys playing golf and tennis.
She knows climate change is important for her generation to address because we want the Earth to be a sustainable, beautiful and clean space for our future generations. Her parents taught her from a young age to respect the Earth, and she feels she is doing her part by being a passionate environmentalist and climate change advocate.
In her spare time, Caroline loves to read books, watch sci-fi movies/TV, and work in her herb garden.