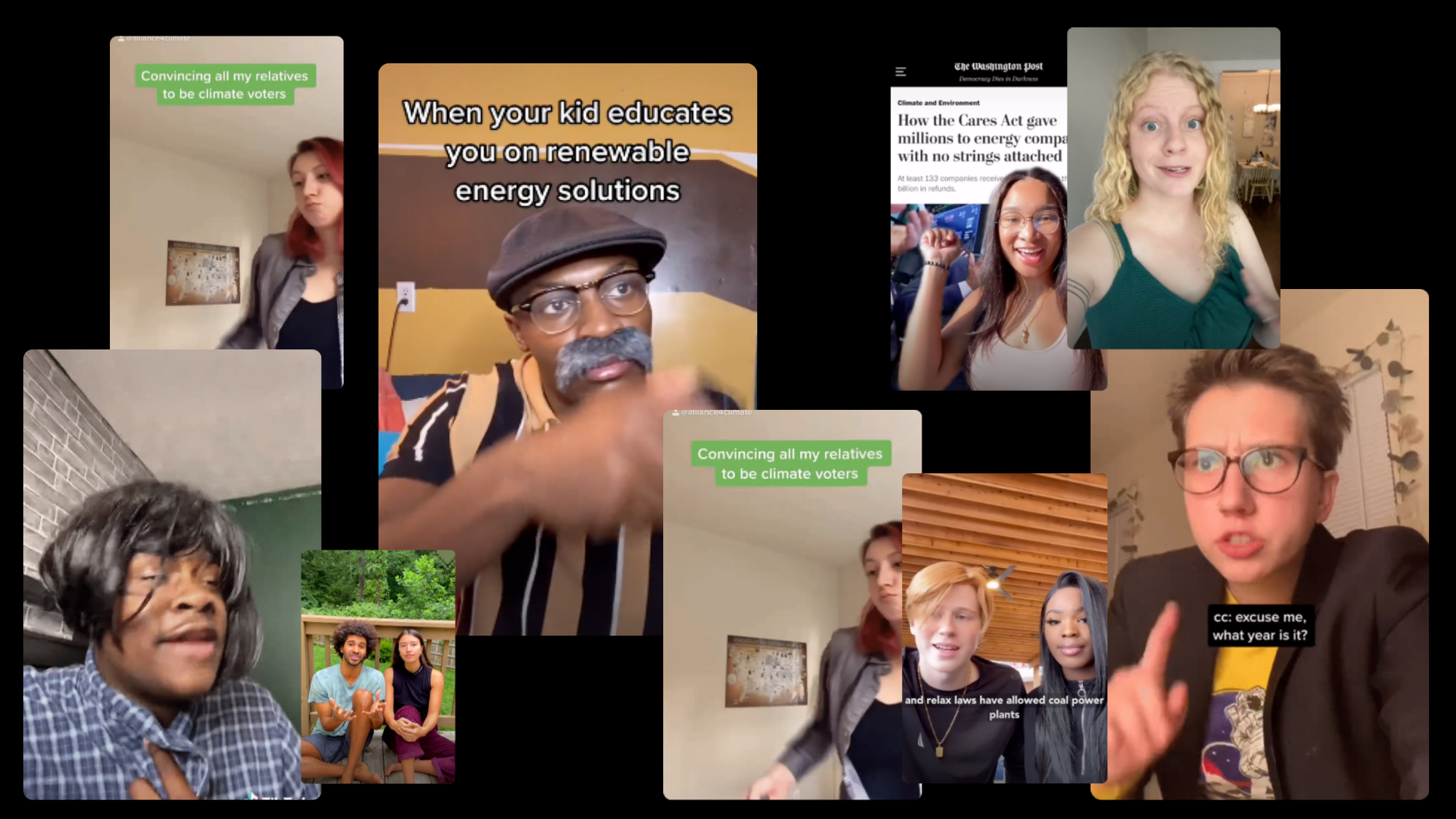 Creator Payment and Terms & Conditions
PAYMENTS FOR EACH PLATFORM POST
*as of September 6, 2022
| | |
| --- | --- |
| Followers | Payment |
| 200 – 14,999 | $200 |
| 15,000-49,999 | $600 |
| 50,000 – 99,999 | $1,000 |
| 100,000 – 499,999 | $2,000 |
| 500,000 – 999,999 | $3,000 |
| 1M+ | $4,000 |
TERMS AND CONDITIONS
ACTION FOR THE CLIMATE EMERGENCY
CREATIVE CONTENT PRODUCER RULES (the "Rules")
1. Campaigns. Action for the Climate Emergency, dba ACE, 529 Main Street, Unit 200, Charlestown, MA 02129 ("ACE") seeks youth activists who want to create and share videos about important environmental and social issues in one or more of its campaigns ("Campaigns"). If you comply with these Rules and submit a satisfactory video, we will pay you the amount that we offer when you sign up.
2. Eligibility. Participation is open only to those who are at least eighteen (18) years old at the time of entry. Those wishing to participate who are aged 13-17 can do so with written parental consent by submitting the ACE Parental Consent form to [email protected]. Participation is subject to all applicable federal, state, and local laws and regulations and is void where prohibited. By submitting the application form, you're agreeing to participate by these Rules for all Campaigns.
3. How to Enter. Complete the application form. After submitting, ACE will evaluate your eligibility, and if it is interested in working with you, ACE will send you an invitation email for each Campaign.
Follow the instructions you receive in the ACE Invitation Email regarding length and content of the video. Note that we will only accept videos that comply with conditions stated in ACE Invitation Email and these Rules, including these Requirements and Content Restrictions given below:
Social media profiles where the video will be posted must be public and viewable by ACE for six months after posting date.
If the Campaign has a call to action, your video must direct the viewer to click the required link (from ACE Publishing Instructions Email) in your bio either directly or via LinkTree (or equivalent service).
Link must be posted in your bio or Linktree for a minimum of 1 week from the video's published date.
Include the hashtags required by the ACE Publishing Instructions Email.
The opinions expressed in the video represent your true convictions at the time of posting irrespective of the payment you receive from ACE as a result of this contract.
Video does not include information that expressly supports or opposes a political candidate (you can talk about good or bad policies in general but not candidates) or says anything else that would violate ACE's 501(c)(3) status.
In general, the video will not include information that directs the viewer to call their legislature on a particular bill (general references to legislation under consideration is OK), unless permitted in a specific Campaign as noted in the Ace Invitation email.
Video does not include any private information of a third party such as address, phone number, or email address.
Video does not contain material that violates or infringes another's rights, including but not limited to privacy, publicity, or intellectual property rights, or that constitutes copyright infringement of current or former celebrity endorsers;
Video does not disparage ACE, or any other person or party;
Video does not use the ACE logo;
Video does not contain material that ACE deems to be inappropriate, indecent, obscene, hateful, tortious, defamatory, slanderous, or libelous;
Video does not contain material that ACE deems to promote bigotry, racism, hatred, or harm against any group or individual, or to promote discrimination based on race, gender, religion, nationality, disability, sexual orientation, or age;
Video does not contain material that is unlawful, in violation of, or is contrary to the laws or regulations in any jurisdiction where the Submission is created.
4. ACE Process. Once ACE receives your Submission, we will review it to check that it complies with these Rules in ACE's sole discretion. ACE is not responsible for lost, incomplete, invalid, unintelligible, or misdirected Submissions, which will be disqualified at ACE's sole discretion.
Invitation. Upon submission of ACE Application form, you will be added to the ACE Creator Collective. Your social handles will be reviewed and you will be invited by email or text to participate as an ACE Creator by ACE in its sole discretion. Campaigns are optional – once you agree to do the campaign, you will be sent the creative brief with instructions for creating your video.
Drafting. Create your video. Once you have completed your video, you will send it to [email protected] for review. Only videos chosen by ACE to go live should be published. Payment is only released for videos that are chosen and do go live.
Publishing. By socially publishing your Submission with the Campaign hashtags, you are agreeing to continue to comply with the Rules. You must send proof of live post back to [email protected] in order for ACE to confirm video, link (if applicable), and hashtags were all posted properly.
Payment. If the video is accepted to go live, ACE will confirm that your video/link/hashtag were posted correctly and then will request a W9 and an invoice. Creator can choose to be paid via PayPal (subject to PayPal fees taken out on the creator side) or Bill.com (direct deposit available, no fees taken out). PayPal payments will be made within 10 days of ACE receiving the invoice and a completed W9/W-8BEN or W-8BEN-E or any required tax compliance document. Bill.com payments will be made within 30 days of ACE receiving the invoice and a completed W9. If we do not receive a response or we receive incomplete information, you will not be paid and our offer to pay may be withdrawn after 30 days. You are subject to seller fees on PayPal or other payment methods. By accepting payment, you are agreeing that the compensation you received for your Submission represents the entire amount of compensation from ACE and that ACE does not have any other obligation to you for any other compensation or expenses or costs incurred in connection with your Submission.
5. Important Information about Your Rights and Responsibilities.
Authorized Account Holder. You are only approved to share your video via the social media handles that you provided on the Application Form. You must also be the "authorized account holder" on any account you use, which means you were the registrant of the email address or social media account provided by an online platform or other organization responsible for assigning these accounts, domains, email addresses, or social media accounts you use.
License to Use Your Work. By socially sharing your Submission with the Campaign hashtags, you are consenting to give ACE a royalty-free, irrevocable, transferable, assignable, perpetual, non-exclusive license to use, reproduce, modify, publish, create derivative works from, and display such Submission in connection with the Campaign, in whole or in part, on a worldwide basis, and to incorporate it into other works, in any form, media or technology now known or later developed, including for promotional or marketing purposes. If requested, you agree to provide any documentation that may be required for ACE or its designees to make use of the non-exclusive rights you are granting to use the Submission or any portion of it.
Privacy. The information ACE collects from you is subject to the ACE Privacy Policy https://acespace.org/privacy-policy/
Publicity. By socially sharing your Submission with the Campaign hashtags, you give ACE or its designees consent to use your name or social media handle, the Submission, photo, video, likeness, city and state of residence, any comments, testimonials, or other feedback related to your Submission or the Campaign, whether written or oral, for promotional purposes in any media based upon payment of additional consideration which has been mutually agreed upon in a confirming email.
Independent Contractor. The work you do to complete the Submission is as an independent contractor to ACE. By making a Submission, you acknowledge and agree that (i) you are solely responsible for the manner in which you complete the Submission and (ii) you are a self-employed individual, who performs (or would perform) services similar to these services for various entities and individuals other than ACE. You are responsible for the withholding and payment of any taxes and other assessments arising out of your work, and neither you nor anyone that works with you are entitled to participate in any employee benefit plans of ACE.
Ongoing Requirements. You agree to monitor established communications channels (i.e. email) on a regular basis and comply within 24 hours if you receive a request from ACE to remove any published content governed by the terms of this contract.
Confidentiality. You agree to maintain confidentiality with regard to any elements of this contract and your communications with ACE.
8. General Legal Information:
Cancellation. If for any reason, the Campaign is not capable of running as planned, ACE reserves the right, in its sole discretion, to cancel, terminate, modify or suspend the Campaign; provided, however, ACE will take all reasonable steps to compensate for all Submissions received and accepted prior to cancellation.
Disqualification. ACE reserves the right in its sole discretion to disqualify any individual it finds to be acting in violation of these Rules, or in an unsportsmanlike or disruptive manner.
No Obligation. ACE is not obligated to use the Submission. ACE shall not incur any liability whatsoever to the extent it chooses to refrain from use or any exploitation of its rights under these Rules.
Revisions to Rules. ACE may update these Rules from time to time and will notify current participants in the Campaigns of updates via an email with the words "ACE Rules Update" in the title.
No Waiver of Rights. ACE's  failure to enforce any term of these Rules shall not constitute a waiver of that provision.
No Endorsement. The Campaigns are in no way sponsored, endorsed, administered by, or associated with any social media platform.
Compliance with Laws and Disputes. As an independent contractor, you will at all times comply with all applicable state, local laws, ordinances and regulations that are applicable to your participation in the Campaigns and this Agreement. This Agreement shall be construed and enforced pursuant to the laws and decisions of the State of Massachusetts / United States.
Force Majeure. If either you or ACE under these Rules is unable to perform any of its obligations by reason of fire or other casualty, strike, act or order of public authority, act of God, or other cause beyond the control of such party, then such party shall be excused from such performance during the pendency of such cause.
Indemnification. Each party (an "Indemnifying Party") agrees to defend, indemnify and hold harmless the other Party and their partners, principals, members, officers, employees, representatives, and permitted subcontractors (each, an "Indemnified Party") from and against any and all third-party claims (including, but not limited to, product and service liability claims), liabilities, deficiencies, judgments, awards, settlements, interest, damages, losses, fines, injuries, penalties, fees, costs and expenses (including reasonable outside attorneys' fees and expenses) (collectively, "Claims") in connection with Indemnifying Party's (a) breach of this Agreement, (b) gross negligence or willful misconduct in connection with this Agreement or (c) infringement of any intellectual property rights or other third-party rights. 
Limitations on Liability. Neither party will be liable to the other for any indirect, incidental, consequential, punitive or special damages, arising out of or related to this agreement, even if such party has been advised of the possibility of such damages. In no event shall either party's total liability to the other under this agreement exceed the total compensation paid to influencer hereunder. However, this limit on types of damages recoverable shall not apply to damages arising out of or relating to a party's indemnification obligations.
By participating in a Campaign, including any of these steps of completing a registration form, submitting a video, accepting payment, or socially sharing the video you create, you are indicating consent to these Rules and agreeing to comply with them.