Voting Rights 101
Victoria Whalen
|
October 19, 2022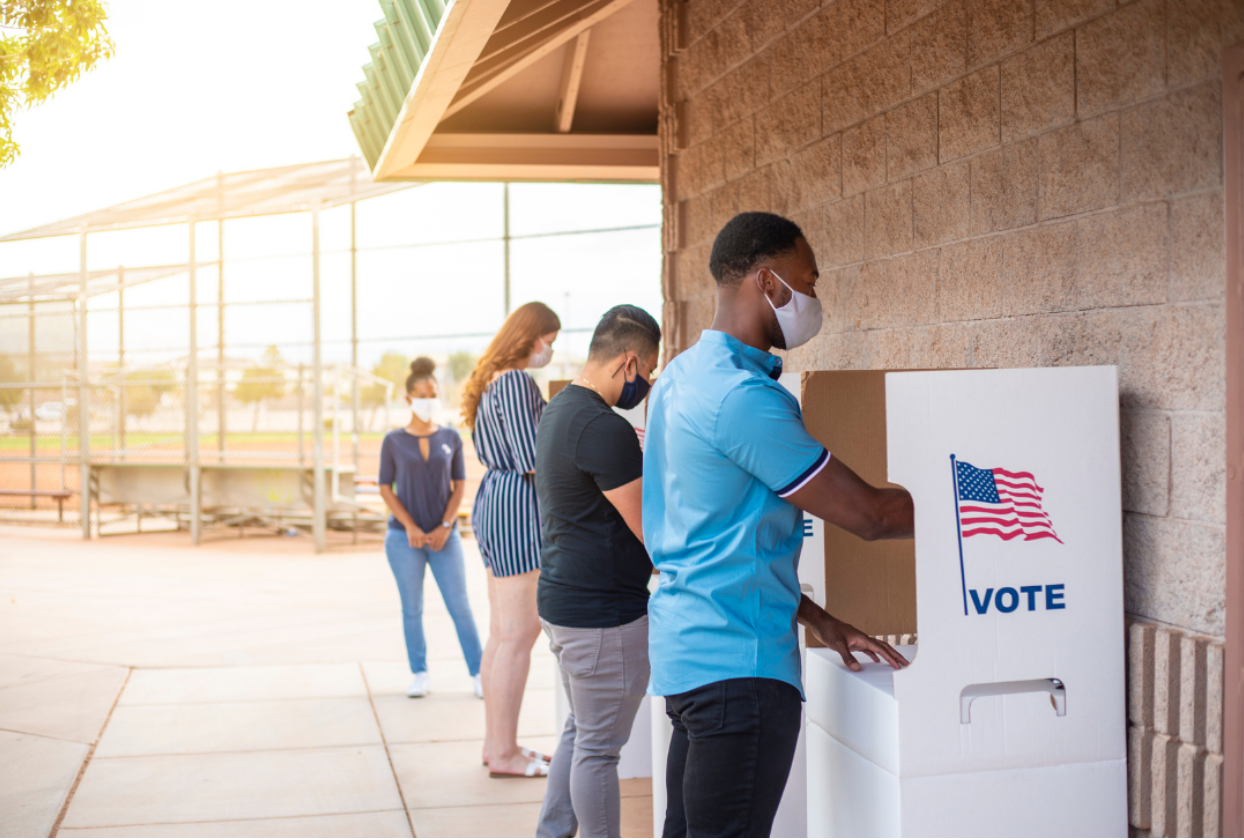 The right to vote is fundamental. Without it, the people's voices are silenced and their influence is diminished. Voting rights are an integral part of passing equitable legislation.
Voting Rights
The right to vote is the most fundamental right for all citizens in a democracy, especially one located in the United States. Having any and all votes counted towards a new bill, an elected official, or local and state laws, is a central pillar of our democracy and is underlined in our constitution.
A brief timeline of voting rights:
The 14th Amendment (1870)

extends citizenship to all natural born or naturalized Americans regardless of race and guarantees that rights of citizenship, including voting, cannot be restricted by the states.

The 15th Amendment

prohibits restricting the right to vote due to race.

The 17th Amendment

requires states to elect their senators and representatives by using the popular vote.

The 19th Amendment

gave women the right to vote by prohibiting voting discrimination based on gender and sex.

The 24th Amendment (1964)

banned poll taxes which were used to suppress minority and low-income voters.

The 26th Amendment (1971)

extended voting rights to citizens who are 18 years of age.
In addition to constitutional amendments, Congress also has the power to pass laws and statutes that can further help or hinder voting rights. For example, in 1965 Congress passed the Voting Rights Act which banned practices, like that of the literacy test, in order to end the historical and systemic discrimination in voting. While the Voting Rights Act of 1965 is regarded as one of the most far-reaching pieces of civil rights legislation, its power has been chipped away over the years. The 2013 Supreme Court case of Shelby County v. Holder removed the requirement of having The U.S. Justice Department review changes in local and state election laws which, unfortunately, has paved the way for states to resume voter suppression tactics. As of 2022, three bills have been introduced in Congress on voting rights: the Freedom to Vote Act, the John Lewis Voting Rights Advancement Act, and the For the People Act. The Freedom to Vote Act establishes national standards to expand voting access, modernize voting registration, and prevent voter suppression. The John Lewis Voting Rights Advancement Act would fully restore the power of the 1965 Voting Rights Act. The For the People Act would require states to allow for same-day registration for federal elections, early voting, and making Election day a federal holiday.
It is also important for voters to know their rights when it comes to election day. Below are a list of a few general rights each voter has:
If the polls close while you're still in line, stay in line – you have the right to vote.
If you make a mistake on your ballot, ask for a new one.
If the machines are down at your polling place, ask for a paper ballot.
If you run into any problems or have questions on Election Day, call the Election Protection Hotline:

English: 1-866-OUR-VOTE / 1-866-687-8683
Spanish: 1-888-VE-Y-VOTA / 1-888-839-8682
Arabic: 1-844-YALLA-US / 1-844-925-5287
For Bengali, Cantonese, Hindi, Urdu, Korean, Mandarin, Tagalog, or Vietnamese: 1-888-274-8683

If you have difficulty speaking, reading, writing, or understanding English, you are allowed to receive assistance at the polls with a person of your choice. You can bring a family member, friend, or other person of your choice to assist you at the polls. Do not bring your employer, or an agent of your employer or union.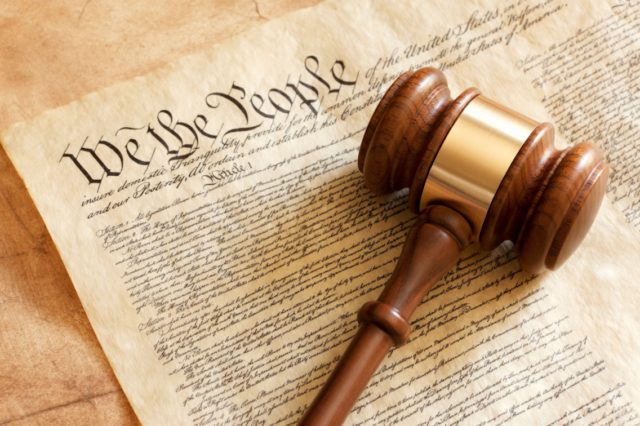 Voting Suppression
Voter suppression is defined as "a strategy used to influence the outcome of an election by discouraging or preventing specific groups of people from voting." Unfortunately, the United States has a long track record of voter suppression which has resurfaced over the last two decades. This can be seen when former President Donald Trump claimed that his re-election was stolen from him and once again 19 states passed 34 laws restricting voter rights.
When someone's right to vote is suppressed, their voice and their opinions are silenced and their influence is diminished. Listed below are some examples of voter intimidation and suppression tactics:
Someone is aggressively questioning a voter about their citizenship status, criminal record, and/or other voting qualifications
Someone is falsely representing themselves as an election official
Signs displaying false or misleading information about voter fraud and penalties
Harassment, especially that geared toward Black, indigenous, or, non-English speaking, or other people of color
Someone spreading false information about voting requirements such as "you must be an English-speaker" or "you must pass a voting test"
Shutting down polling places or limiting access to polling places
Stricter voting ID laws
Limiting early voting or absentee voting
Lack of accessibility to polling places either via public transportation or disability requirements such as ramps, elevators, etc.
Often these new laws and restrictions are passed under the notion that the states are preventing voter fraud, however, numerous studies and other research has shown that voter fraud is extremely rare and that these new state statutes do not actually address the fraud that does exist. Instead, these bills are shown to disproportionately prevent BIPOC and other marginalized communities from voting. Georgia is one example where the restrictions are bordering a human rights issue with one of their new voting laws criminalizing passing out food and water to those waiting in line at polling centers.
Not every state is participating in voter suppression. There were 25 states that passed laws expanding voting rights, however, the Brennan Center for Justice said, "this expansive legislation does not outweigh the impact of the restrictive laws… there is a stark and growing divide in the nation, where access to the right to vote increasingly depends on the state in which a voter happens to reside." Voting rights activists nationwide have called on Congress to end the filibuster which requires that 60 votes in the 100-seat chamber are needed in order to bring most legislation to the floor. Throughout history, this has been used to block laws, bills, and statutes. The filibuster has been called a relic of the Jim Crow era because it was designed to stop civil rights legislation, as well as other important pieces like environmental safeguards and gun control.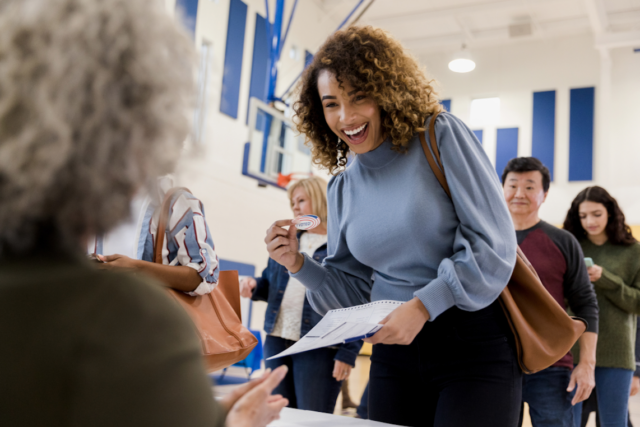 Youth Voters
There has always been a low young voter turnout throughout the United States compared to other demographics. However, millennials and Gen Zers have started to rewrite this history. One potential reason for the increased youth voter turnout could be that Gen Z and millennials are more diverse than their "boomer" counterparts. As a result, young Americans are now more exposed to different viewpoints and experiences that shift their world and political views.
Nationwide, politicians and organizations are becoming more aware of the importance of the youth vote. This is mainly due to the historic youth voter turnout in the 2018 and 2020 elections. According to a 2020 poll from Tufts University's Center for Information and Research on Civic Learning and Engagement (CIRCLE), more than 7 million people between the ages of 18 and 29 had cast their ballots a week before the 2020 Election day, with that number being doubled from the 2016 election. These votes were crucial in securing Biden's presidential win in battleground states like Arizona, Georgia, Michigan, Pennsylvania, and Wisconsin. In the same poll from CIRCLE, young voters are seizing their power, with 83% saying they believe young people have the power to change the country, and 60% feel like they're part of a movement that will vote to express its views.
Several influential organizations and coalitions have already invested millions of dollars into the importance of the youth vote. The Future Coalition, founded by youth activists, states that more than 10,000 people had used their platform to either register to vote or check their registration in 2020. In preparing for the 2022 midterm elections, Vote.org, the nonpartisan voter registration, and turnout organization, invested $10 million to engage young voters.
Register to Vote
Your vote is your voice. Voting is one of the most fundamental rights and responsibilities of a United States citizen. It allows you a platform to voice your concerns and demand change amongst you and your community. Decisions are made by those who show up at the polls! So the first step in ensuring that everyone's voice is heard equally is registering as many people as possible to vote.
Register to vote today!
Want to read more? Check out the ACE Blog.
Join

our Youth Action Network