Youth Think Climate, Issue 4: Sustainability
Ardra Charath
|
June 30, 2022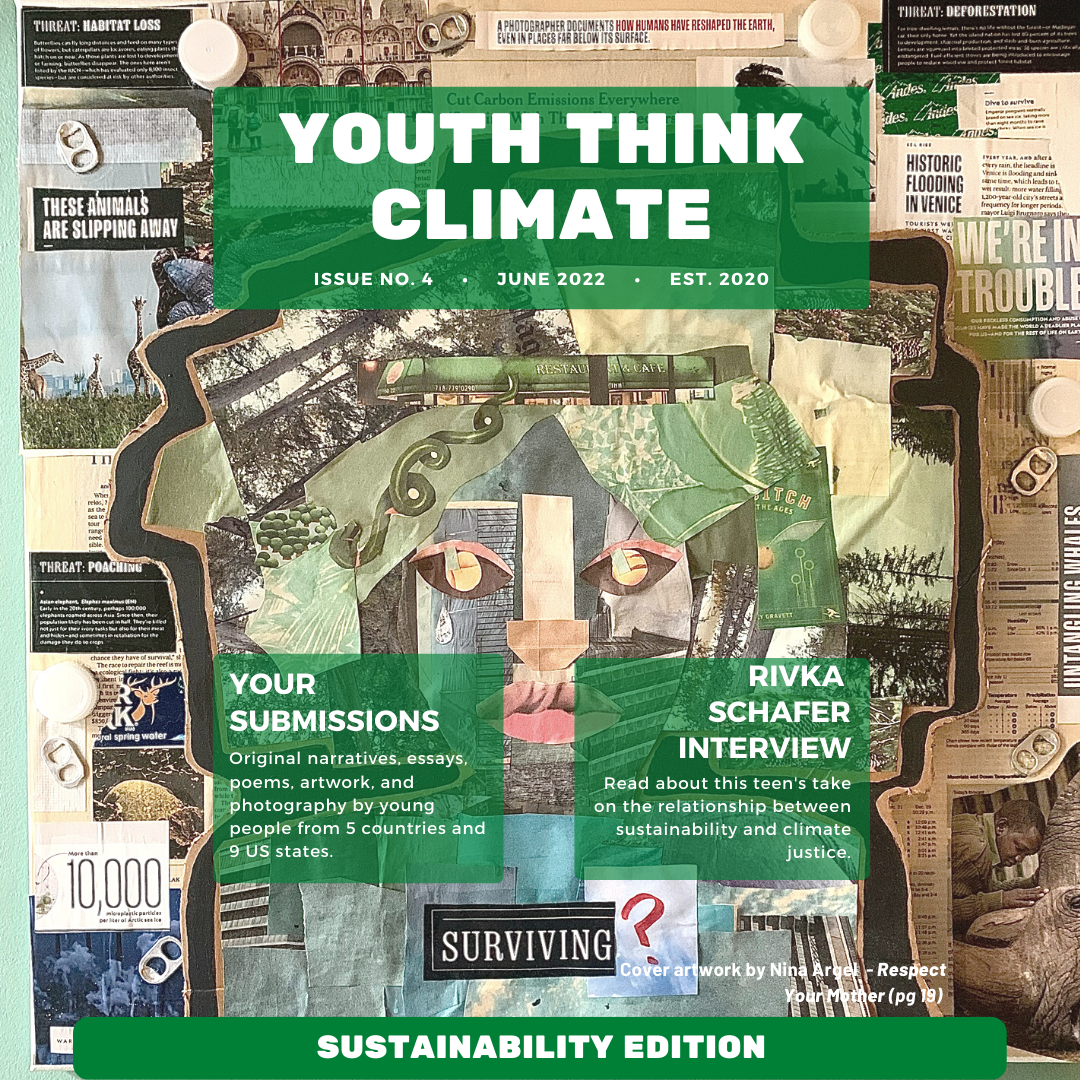 I grew up in the United States, but I will always be from my grandparents' fields of spices in Kerala, India where I would spend my summers. Coming from an agriculture-focused family, changes in the climate were always a point of discussion. My identity became shaped around the floods of the monsoons and the thuds of ripe mangoes if your aim was just right.
There are many stories we lose due to a lack of a platform to share them. At Youth Think Climate (YTC), we hope to share these perspectives so they can resonate. July 21st, 2022 marks the two-year anniversary of the release of our first magazine edition. This endeavor has taught me the value of initiative, storytelling, and a community within the climate movement. I'm excited to share our fourth edition with you all today.
The Youth Think Climate (YTC) Magazine is a digital, youth-led publication dedicated to showcasing the thoughts and experiences of youth on the climate crisis through various artistic mediums. This magazine was formed to build a community within the climate movement so that young people have a space to self-express and develop the belief that they can make change. By placing emphasis on storytelling and personal narratives, we bring in fresh, global perspectives and encourage youth to reflect on how the climate crisis affects them on a personal level.
The theme of the fourth edition is sustainability. The essays, poetry, and artwork highlight the importance of sustainability within our fight to mitigate the climate crisis. Some reflect on their anxieties surrounding what our future may look like as a consequence of our current actions and lifestyles, while others outline specific steps we can take to handle the crisis.
Overall, the fourth edition of the magazine showcases dozens of submissions from young people living in nine US states and five countries, alongside an interview from Rivka Schafer, ACE updates, and resources for climate action.
Thank you to everyone who submitted their work and for giving us the opportunity to share your voices. We would also like to express our gratitude towards our readers and supporters. This publication would not have been possible without you. If you would like to learn more about our magazine and submit your work for future editions, follow us on Instagram @YouthThinkClimate.
---
Read the latest addition here
The YTC team firmly believes education is critical to evoking progress and represents the root of an equitable future. After the publication of YTC's first edition on climate change denial, the team expanded from 6 to 16 Alliance for Climate Education fellows and Youth Action Network members.
Want to read more? Check out the ACE Blog.