Kaila on the Trans and Queer Climate
Kaila Cantens
|
June 22, 2022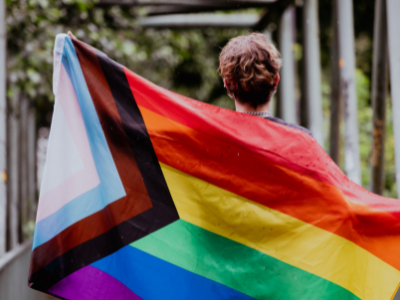 I discovered my pansexuality as a sophomore in college. I was lucky enough to attend Mount Holyoke College, a historically women's college in Massachusetts in which students, faculty, staff, and the community at large were open and welcoming to gender and sexual diversity. It was a safe space where I was able to express my authentic self without fear of persecution or discrimination. However, I quickly realized that the reality of the world outside of my college campus did not have the same welcoming attitude. I was warned that if I didn't keep my "gayness" to myself, my extended family, neighbors, friends, and society as a whole would discriminate against me and I would undergo struggles that cis-heterosexual identifying folks couldn't begin to understand were possible.
So, how does my coming out story relate to the climate emergency? Even though I was one of the lucky few that hadn't been kicked out of my home or cut off financially from my family, many youth who identify as queer or trans face houselessness, financial instability, unemployment, or general discrimination. As a result, many also suffer from addiction and mental health issues which perpetuate their circumstances. Queer and trans folks are more vulnerable to the effects of climate change because they experience these struggles and are provided with fewer resources to become resilient against climate impacts.
For example, even though queer and trans folk only make up about 7% of the population, they represent 40% of the homeless youth population. In coastal areas, where it's three times more queer and trans-dense than the U.S. average, cities are threatened by sea level rise and will eventually inundate places where queer people frequent and find a safe space like Provincetown, Los Angeles, New York City, South Florida, and many other coastal areas. Not only as sea level rises but also as coastal storms and extreme weather occurrences continue and are exacerbated by rising temperatures, the houseless population will be at the frontline of the disaster.
Not all queer and trans folks will be affected by the climate crisis in the same way. As a cisgendered white woman with an education and affluent background, I will not feel the brunt of the negative effects of climate change. However, someone with multiple marginalized identities will be at higher risk. Queer and trans BIPOC folks are not only faced with homophobia, transphobia, and heteronormativity, but they are also facing generational trauma that stems from colonialism as well as the white supremacist systems of oppression that we all live in today. Folks with multiple marginalized identities will be more vulnerable to climate change than those with less. For example, Black and trans folks within the queer community are more likely to face homelessness, poverty, food insecurity and other issues than their white queer counterparts. Understanding all systems of oppression that exist and addressing them is crucial to protecting and creating resiliency for the most vulnerable communities.
In his letter from a Birmingham jail, Dr. Martin Luther King Jr. wrote one of his most famous quotes: Injustice anywhere is a threat to justice everywhere. We are caught in an inescapable network of mutuality, tied in a single garment of destiny. Whatever affects one directly affects all indirectly. Never again can we afford to live with the narrow, provincial "outside agitator" idea.
In order to live by these words, we as individuals, regardless of whether we are personally and directly affected by these systems of oppression, must recognize that all systems of oppression are connected and in order to address one, we must address all. In order to fight against climate change, we must also fight against homophobia, we must also fight against racism, we must also fight for a pregnant person's right to choose, and for reparations to those whose lands have been forcibly taken from them or whose ancestors have endured slavery. We also have to make our governments, corporations, and organizations accountable for their actions or inactions in support of or against marginalized groups.
Although the queer and trans community has been and will be bearing the brunt of the climate catastrophe, the queer and trans community has the power to make an impact. The environmental and climate movements have historically been activated by queer and trans folks. Rachel Carson, author of Silent Spring — the book that ignited the first wave of the modern environmental movement in the 60s and 70s — was a lesbian. Many other scholars, scientists, and activists within the different environmental and climate movements have also been queer or trans. We, the queer and trans communityhave found power in our common struggle to fight for a common goal. Use your power to activate the current and next generations of queer and trans climate leaders and continue to keep yourself and others accountable in the fight for our futures.
Want to read more? Check out the ACE Blog.