Asian and Pacific Islander Activists You Should Follow
Indy Howeth
|
May 4, 2022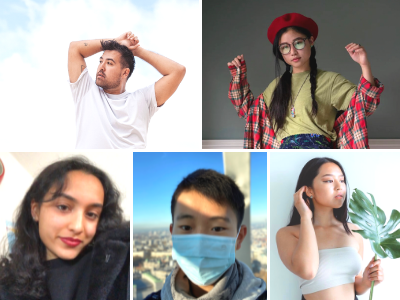 These six climate activists are tired of the inexcusable lack of action on climate. Here, they speak about how their identities impact their climate work and what it means to them to be a climate activists from the Asian and Pacific Islander community.
she/her
"I come from a family of refugees, which has made me acutely aware of the intersections between climate and human rights, and the privileged position that I'm in to have a platform for speaking out against injustice. I see myself in people of colour in the Global South who are being the most heavily impacted and displaced by the climate crisis. It's really important to me that environmental activism is intersectional — we need to have marginalized voices at the centre of the climate conversation."
she/her
"As a member of the AAPI community I sometimes feel like my voice is not heard. Growing up I didn't see many people in the climate movement. I did, however, know as POC we did reduce waste as much as we could just out of habit and to save money. I am now happy to be part of the change and to inspire and educate others with very simple and relatable tips and tricks. I want others who look like me to know they can make a difference too."
she/her
"My upbringing encouraged me to look at the climate movement from a very everyday life perspective. How are peoples' lifestyles already contributing to the climate movement and greener future, they just haven't made that connection yet? As a climate enthusiast currently residing in California, the contrast of life and people in Taiwan versus the United States further prompts me to communicate about the climate movement to others holistically, and I feel blessed to have these experiences and opportunities."
she/her
"My identity as a member of the AAPI community impacts my work in the climate movement as I see myself in the people of colour who are most affected by climate change. 70% of Bangladesh is less than one metre above sea level so is disproportionately affected by the impact of rising sea levels and flooding. Bangladesh as an economy and workforce is a major actor in the garment industry with garment production now representing some 80% of exports and this is growing quickly. Bangladesh was the site of the 2013 Rana Plaza factory collapse, where over 1,100 mainly female garment workers died. I see these women as my community and so I want my work to empower and support them."
he/him
"Being a member of the AAPI community has so much intersectionality to the climate movement. For me there's a wider sense of urgency, as I'm thinking of various climate issues not only in America but from around the world, specifically in Asian countries. With issues specifically with fast fashion and how clothing is produced and made, to the plastic use and failed recycling systems our capitalist world creates. The illusion of climate work and the climate movement definitely intersect as we often see so many beautiful traditions and cultures taken advantage of in society as well. Most importantly, to me it's so important to face the climate movement head on and have tougher and bigger conversations around it with my AAPI community and beyond so that we don't feel disconnected from it. It's tangible and it affects us all."
Evan Li
he/they
"I don't think that my identity as an Asian person inherently contributed to my climate activism, but the experiences that it has offered me certainly has. My grandfather used to say that "nobody knows what Heaven looks like but it should have a blue sky with white clouds, pure water, and green land. Nobody knows what Hell looks like either, but any current northern Chinese city is close." Every family trip that I've taken to China, no matter how filled with family and fun, has always been overcast with gray skies and unbearable heat. Because our trips to China were only once every year, I didn't realize, until recently, how close that reality of choking heat could be to my home in Charlotte. China has not only taught me to fear climate change though, it has also offered me a view of a climate-conscious future: Tianhe Shan in Xingtai. Hiking up a labyrinth of rocks, breathing the crisp air and swimming in its emerald lakes, Tianhe Shan has stood as a constant reminder of what I stand for: the preservation of our pristine environment."
All photos courtesy of subjects.
Want to read more? Check out the ACE Blog!