Climate Ride for Climate Justice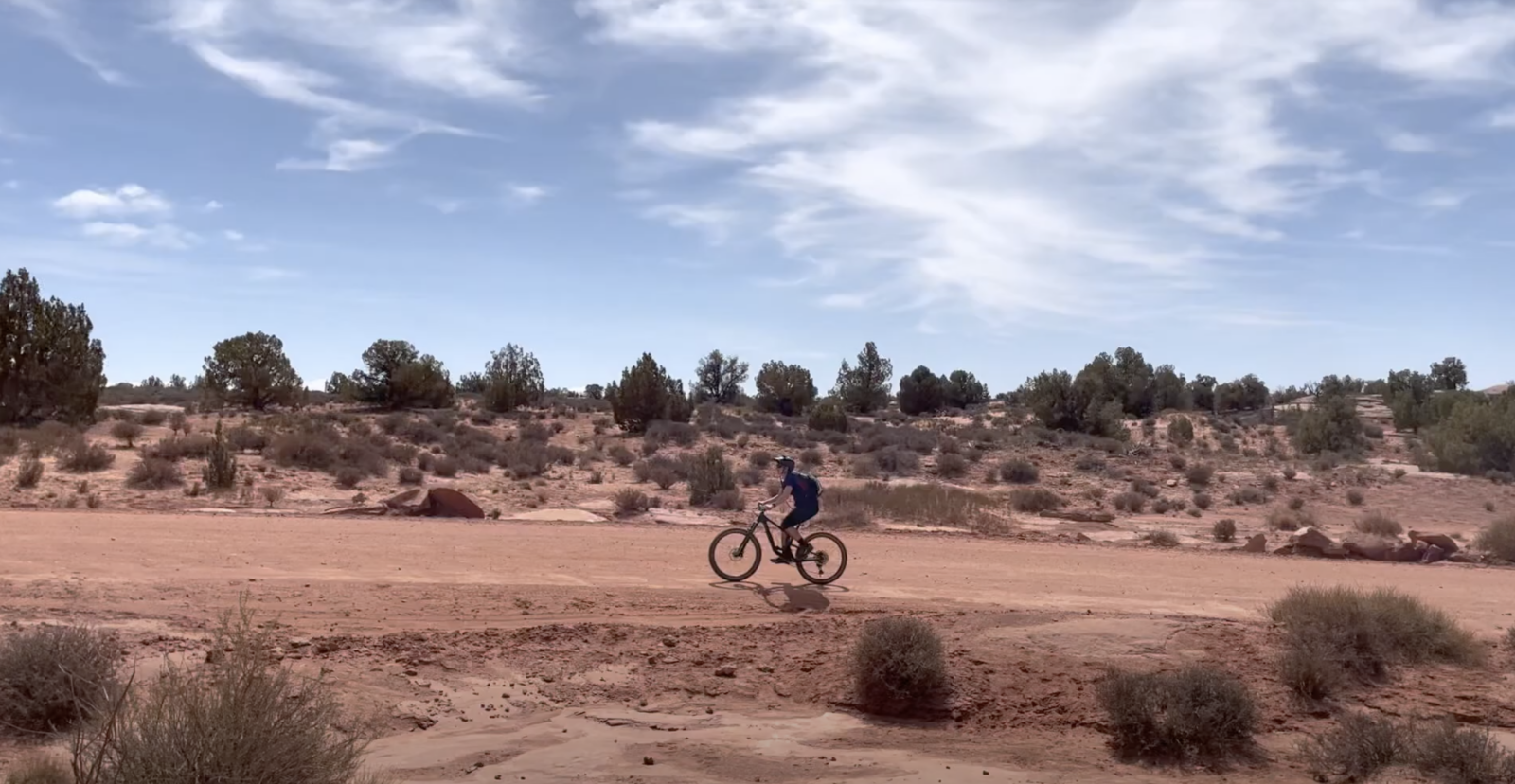 This April, I combined my love of the outdoors with my passion for the climate and did 4 days of mountain biking with Climate Ride and raised money for ACE. In every way, participating in Climate Ride proved to me I was capable of accomplishing the impossible.
When I got off the waitlist for the White Rim ride in Canyonlands National Park outside Moab, UT, I only had one month to raise $2,800, and only 2 months to learn how to mountain bike. The feeling was daunting, but I knew this was an opportunity of a lifetime I couldn't pass by. Plus, I wanted to share with my community the awesome work ACE does and give them a fun, fresh way to support it.
So I hustled. I sent out rounds of emails, followed by texts. I asked folks to give big if they could, and I told my story of why I was riding to inspire them to join me in spirit. I told them that my most foundational moments as an activist occurred when I was a young person. The time organizers invested in me building my analysis and leadership left me forever changed. Now as an adult ally, I wanted to pay it forward and give back to younger generations. This was one small act, but it was meaningful, substantial, and concrete and every size donation helped get me closer to my fundraising goal.
I was humbled by the response. I not only raised the minimum, but I also became the top fundraiser for the whole ride. With new confidence, I was ready to take on the ride.
I got to Moab early and met some fellow riders. We instantly bonded, sharing our motivations for joining and excitement to do the ride. Turns out that a couple of riders had done previous Climate Rides, and kept coming back. When I told people about ACE, everyone was impressed with the mission to grow the power of the movement by amplifying the voices and values of young people.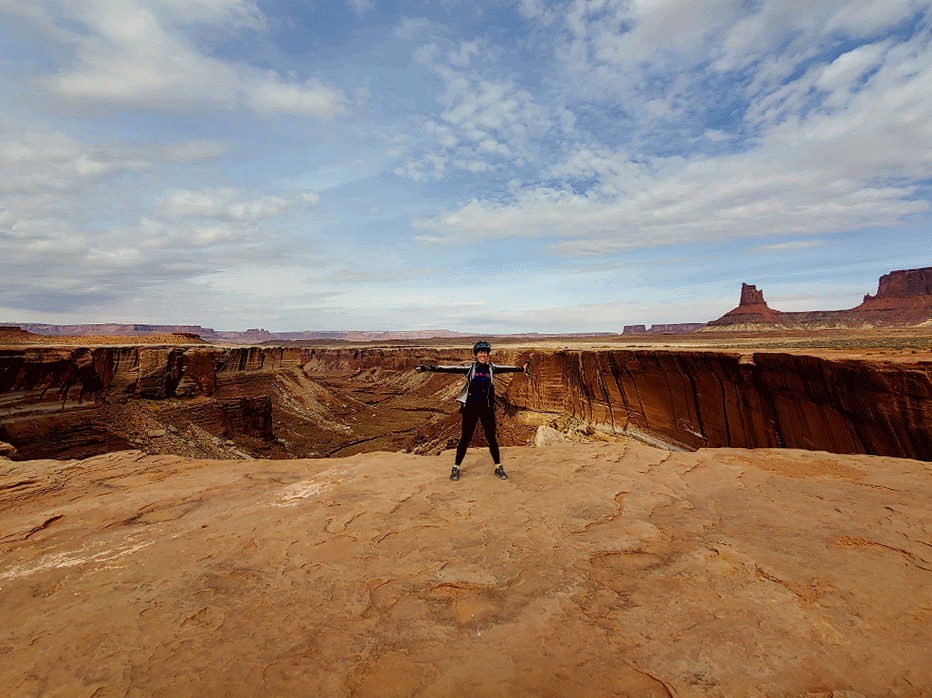 Day 1 we got all our gear sorted (it was a fully supported ride – meaning that a truck with all of our stuff, food and water followed us) and began with a view of the entire park plus the La Salle mountains in the background. Then we had a thrilling descent into Canyonlands and later I got to bike to the banks of the mighty Colorado River. Seeing the water source for tens of millions of people was a humbling reminder of the emergency we're in. Water is life – this precious resource is finite, and having this connection reinforced the importance of ACE's work.
That night, we had an amazing dinner (the guides cooked all the meals for us), heard about the history of the area from our guides, and shared stories of our own. We laughed until it hurt and fell asleep to a sky split open with stars.
Day 2 we spotted bighorn sheep right outside our camp as we hugged the White Rim trail. In many spots, we biked along the edges of cliffs, revealing the eonic erosion that makes this area so majestic. This came into full view as we biked to White Crack and overlooked most of the "Maze District." True to its name, it was a seemingly unending labyrinth of layered red rocks, plummeting to the ancient rivers below. Our final miles of the day were a formidable climb, and we cheered each other on as each rider reached the summit.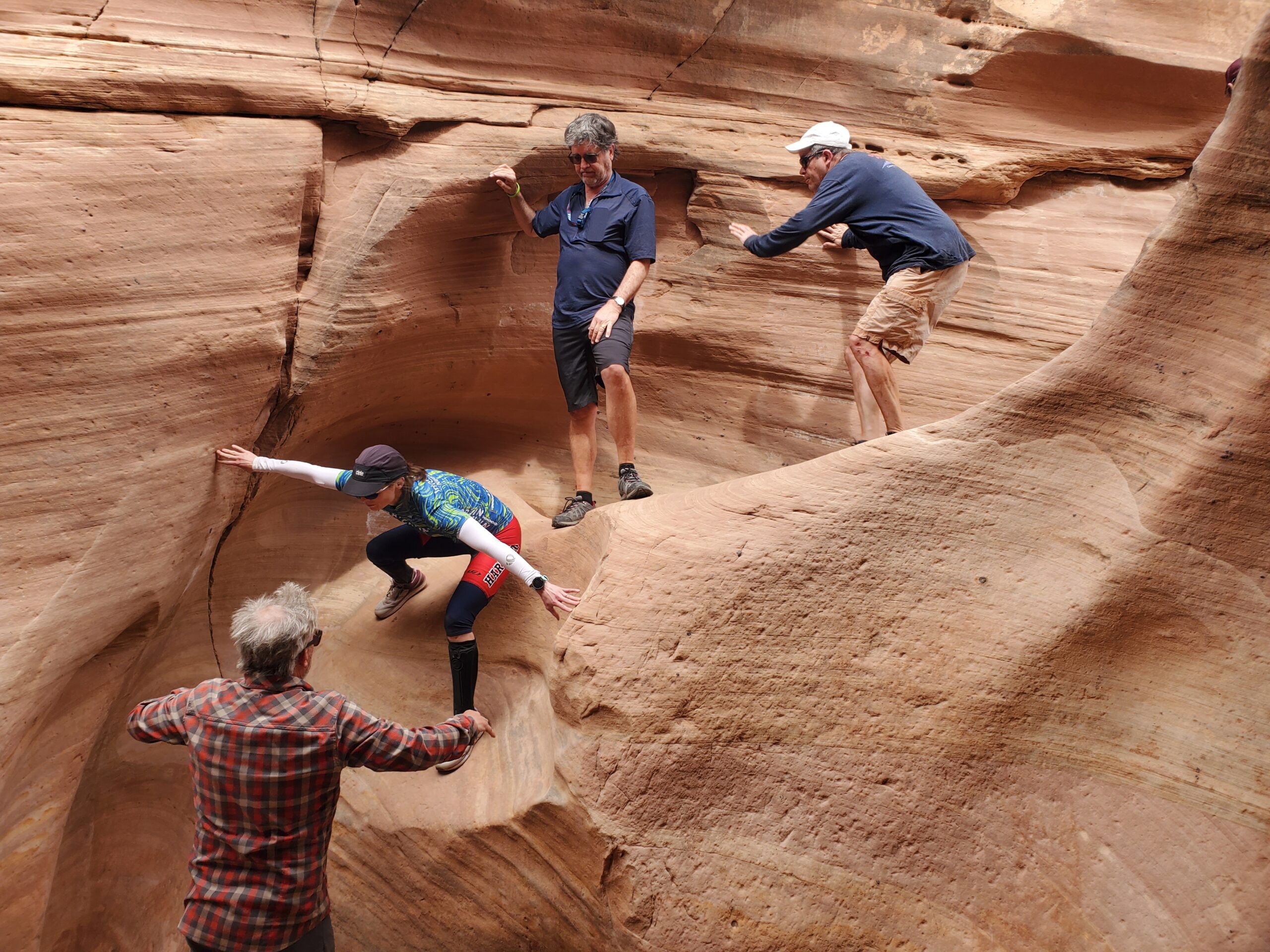 Day 3 we saw new water – the Green River – and canyoneered in Black Crack. A classic Moab scene, we scrambled between thin swooping sandstone, carved out by flash floods and came to an epic view where the water gushes over a cliff. All the participants and the guides helped each other through the canyon and there was a high level of trust built even over just 3 days. We marveled at Moab and talked about the action needed to protect its future.
Day 4 we biked over boulders and through sand, and along the way, our guides stopped to talk with us about the people who lived here before colonization. We had more discussions about Bears Ears National Monument and the legacy it holds not only for protecting wild places but also for respecting the Indigenous heritage of the land. This prompt was poignant since the land we were on was stolen, and the struggle to protect our planet is one that generations of Indigenous people have been in. I thought about the work ACE does, and what it means for future generations to be able to still experience places like this.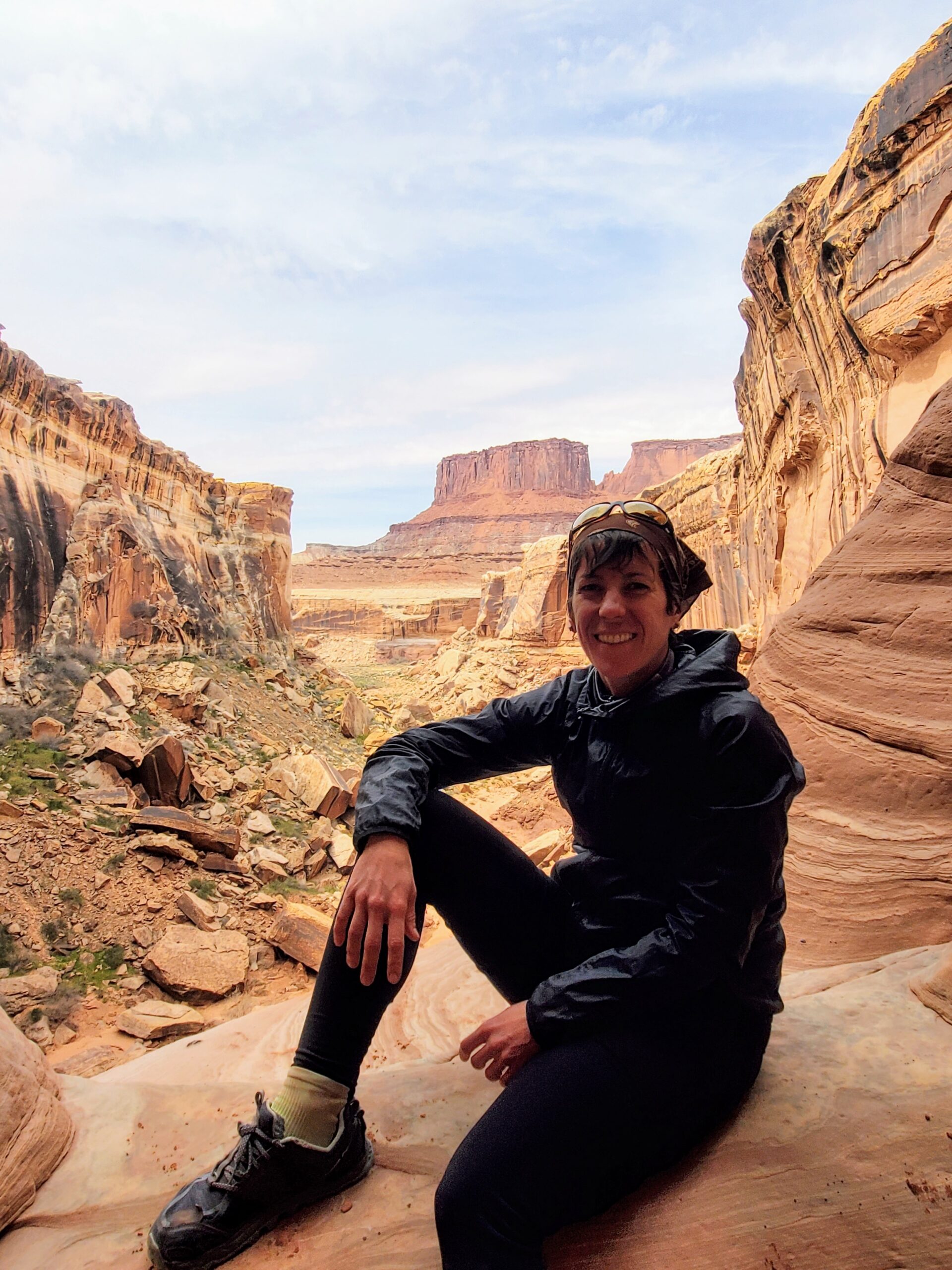 We ended the final day with a massive 1,000ft climb out. That final shot on the top of the mesa where we started was quite a bonding moment. Collectively, we were so proud of the money we raised for climate organizations (nearly $40,000), but we were also proud of each other, for taking action and showing up, for being encouraging of each other, and for taking all these accomplishments back to keep fighting.
I can't wait to do the Climate Ride again, and I hope next time that I can take an ACE contingent with me. It's a life-changing experience. I would love to share it with more folks not only because it's so much fun, but also to make even bigger fundraising impacts for ACE.
Want to learn more about how you can participate in a future Climate Ride and support ACE?
Contact Jaime Bayo – [email protected]
Join

our Youth Action Network