ACE INTERVIEW: Eva Jones on Women and Climate Change
Raquel Martinez
|
August 7, 2021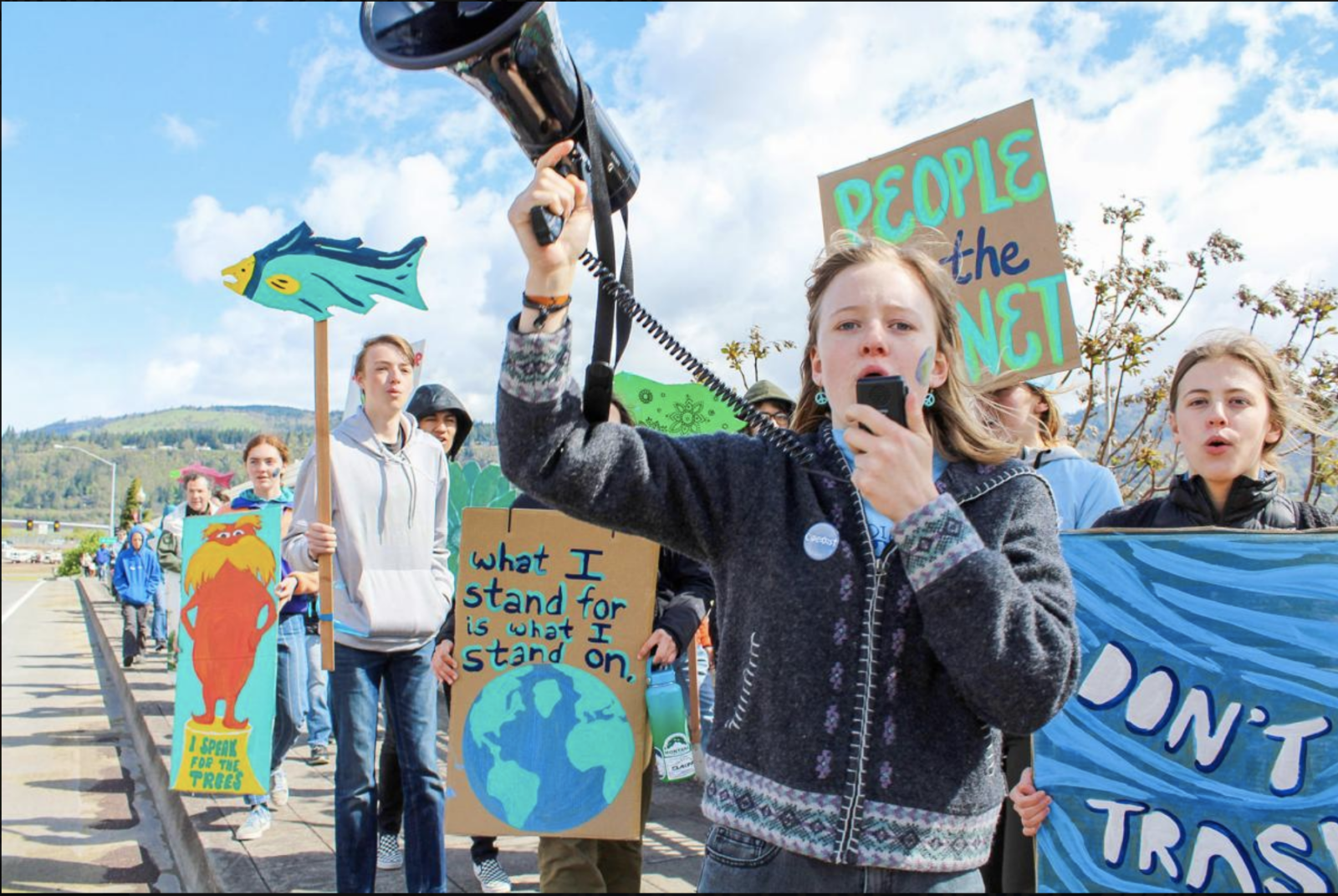 ---
Eva Jones (she/her) has grown up watching wildfires ravage forests and grasslands, salmon populations dwindling, and glaciers receding in her home, thrusting her into frontline impacts not only her but other more vulnerable communities face due to climate change.
In only three years, Eva has raised over $55,000 for UNICEF and UNHCR and donated over 4,500 menstrual products to local women. In 2019, Eva was chosen as a UNF Protector of Progress for her Girl Up fundraising and advocacy efforts. After attending the United Nations Youth Climate Summit, she was sent to Switzerland for the World Economic Forum as a youth tent coordinator for Arctic Basecamp where she marched with Greta Thunberg.This year, she is on a gap year working with the Democratic Party of Oregon and United Nations Foundations before heading to Stanford University to study Bioengineering. Eva knows intersectional feminism is the key to defeat inequalities and the climate crisis.
---
Raquel Martinez (RM): How did you first get involved in the climate movement?
Eva Jones (EJ): My path as an environmentalist began with my immersion into nature. When I was a child, my father taught me to be a steward of the Earth that gives us such beauty, joy, and life. Skiing, hiking, biking, and living life on this magnificent planet made me eternally grateful and protective over it. Soon, living thankfully and aware of nature's power wasn't enough. Our forest's were on fire, our glacier's were shrinking. I began to search for avenues of action. My feminist journey began in 8th grade. In my studies, I found more and more information about women supporting each other to tear down the patriarchy around us. It wasn't until I heard about how climate disasters disproportionately affect women of color and push communities into harmful cycles of patriarchal rule that I understood. My love for feminism and environmentalism were anything but separate. They formed the most effective and broad justice solution available.
Since that moment, my intellectual pursuits have continued to weave parallels between environmentalism and racial justice, indigenous rights, workers' rights, and an equitable society. Through my Earth Action Club, I organized demonstrations to educate our community on how to coexist with nature. Every year, I lead the Climate Justice March and hand-print used T-shirts to raise money. We worked with the City Council to establish a County Energy Plan. For my work in bringing together the intersection of climate justice and gender equality, I was nominated by the United Nations Foundations to attend the United Nations Youth Climate Summit in New York. TIME for Kids featured me in their story of the climate activists around the globe. In New York, I was offered a position as the Youth Tent Coordinator for Arctic Basecamp, a climate research awareness group, at the World Economic Forum in Davos. I camped with arctic scientists all week outside the World Economic Forum. I marched for climate justice alongside Greta Thunberg and brought youth activists' voices to Presidents, CEOS, Prime Ministers, and other leaders in the world's economies to show real scientific evidence of how the climate crisis will impact economies and how our economies will impact the climate. The New York Times and Rolling Stone magazine featured me to share my message with the world. I learned from world leaders to fellow youth activists about how marginalized women are the most vulnerable to climate change. I believe we can effectively mitigate climate disasters by educating girls and starting cycles of empowerment to uplift entire communities. Climate Justice is intersectional.
RM: How does your identity inform your activism?
EJ: Having feminism as my introduction to organized change created a platform and base of feminist ideology to prop up everything else I have learned since. Being an unapologetic queer woman interested in the world, it is quite easy to see change happening around me.
RM: How did you first get involved with the United Nations? Could you tell us about your role with the UN's Girl Up Campaign?
EJ: Girl Up truly changed me. It came into my life at a time where the brute force of patriarchy was seeding itself into my life. Middle school is a time where bullying really becomes socially informed. This means we see young girls being valued by their bodies, sexualized, and pitted against each other. This was excruciating for me until I came across the phrase "girls supporting girls." It sounds silly, but it just clicked. I saw the bad behavior all around me melt into sad pleas for recognition in a world that tells women there is one way to be and only space for one woman. I decided to change that.
I embraced being bold and making a space for who I wanted to be. I founded my local Girl Up club and in three years, I raised over $55,000 for UNICEF and UNHCR, donated over 4,500 menstrual products to local women, made a documentary about sexual assault at my school, changed policies at my high school to be gender inclusive and equitable. I was then chosen as a Teen Advisor, UN Protector of Progress, and UNF Representative for the UN Climate Summit. Girl Up turned my blunt passion into a precise and lethal force for good.
RM: What role do you believe women's rights play in the environmental movement?
EJ: I always thought climate action and feminism were separate spheres of my activism. Until I began to read about the connections between the climate crisis and girls' education. Climate catastrophe preys on those with the most to lose. That means the wage gap, domestic abuse, and sex trafficking are all climate issues too. When food or jobs are scarce due to droughts, increasing natural disasters, and other extreme weather events or changes, we see domestic abuse rise, child marriages increase, and women dropping out of the workforce. Anytime there is a strain on resources, like during this COVID pandemic, we see any progress for gender equity atrophy. A majority of the individuals who lost jobs during the pandemic, at least in the US, were women, specifically women of color.
Time and time again, we see climate change target our most vulnerable populations which can leave young women, especially women of color, behind and exposed to violence. When you think about how we define masculinity in a lot of cultures, it is conquest, independence, and ownership. These are elements of extractive resource usage and consumerism that threaten our planet. I think the path forward to a future of harmony with our world is breaking down these concepts of power that latch onto ownership and extractive tendencies rather than long term usage, care, and respect.
RM: Could you tell us about your experience attending the UN Youth Climate Summit?
EJ: Bringing youth activists from all over the globe together in the name of progress is a great step in involving youth in climate spheres and decisions. Unfortunately, the amalgamation of press and international buzz around climate issues in that moment resulted in a discord of the more negative aspects of youth activism. The conference was criticized by youth attendees as a press opportunity for world leaders, but I think a very important part of that was left out.
As much as the media utilized the opportunity with youth activists, youth climate leaders did the same. The clamoring for international press and recognition between youth attendees soured the collaborative nature of the event. The dark side of youth activism is a hyper competitive culture for self-promotion instead of change. At such a high-visibility event, this was amplified. I think instead of putting on an event FOR youth activists, the UN Youth Climate Summit would have been better suited to put together an event WITH youth activists. Centering the conversations, learning, and connections between youth attendees would have achieved the goals of both parties more effectively.
My love for feminism and environmentalism were anything but separate. They formed the most effective and broad justice solution available.
RM: You attended the World Economic Forum in the Arctic Basecamp and even marched alongside Greta Thunberg – that's so freaking cool! What was that experience like for you?
EJ: My time in Switzerland was super fun! My favorite part was the bond I made with my fellow Arctic Basecamp Delegates: Vanessa Nakate, Kaime Silvestre, and Sascha Blidorf. We had so much fun learning from each other's activism and speaking at and attending events. I felt attendees of the World Economic Forum were very excited to speak with young people, so we got to share the urgency of climate action with powerful individuals around the world. In many ways, marching with Greta Thunberg felt like an important moment in time. In others, I saw so many other youth activists in her, which is a big part of her ability to garner so many alongside her. Press were pushing us and yelling quite aggressively, and Greta was like any teenager getting yelled at and pushed: scared and overwhelmed. Greta represents so many youth activists that she is terrified. She is terrified of the future of this planet and our responsibility for it. We are a generation periled by climate anxiety, and Greta is no different.
RM: As you head to Stanford University with a focus on Bioengineering, how are you looking to implement the knowledge you'll gain from your studies into your work as an activist?
EJ: I think of my studies as a continuation of my activism. My fight for a better future is evolving. I think we think of activism quite limitedly, and it can be really taxing on youth who care about our world to always be creating, building, and leading. I think that interpersonal and intrapersonal activism is a place for massive change, dedicating yourself to bringing gender equality and climate justice into your line of work — this is activism, too. I want to develop a more holistic approach to social change and deviate even further from reactionary, guilt based, social media activism. I cannot wait to start changing the industries I see with such sustainable potential. I am excited to implement these calls for action I will continue to fight for them in my career.
RM: What are some tips you could provide young people who are looking to follow a similar path in activism as you have?
EJ: Take a break. Don't let the world convince you that the climate crisis is in the hands of children. Keep the fire on the people in power. Adults in power keep telling youth activists that we are the future, the power of change, but in that they are basically admitting that they are not willing to be the change. We need to demand better from adults and stop putting responsibility on teenagers to do the job they are paid six figures for.
RM: How can individuals support your work?
EJ: I think that integrating justice into our climate action is imperative to continuing the momentum of an intergenerational movement. Get young people and old people alike involved in your local action. That is how you build a community and momentum. Start small and start soon. Change local laws, practices, and habits to integrate climate justice into every new law, invention, product, or idea.
---
All photos courtesy of Eva Jones.
Answers may have been edited for length.
Want to read more? Check out the ACE Blog!