Line 3 Pipeline: Updates
Jennifer Eison
|
July 1, 2021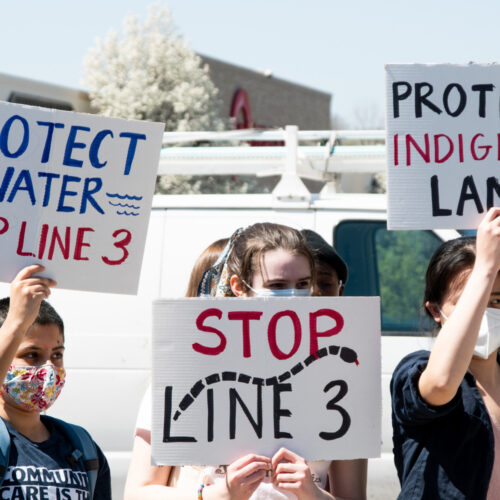 Since the Treaty People Gathering that started on June 5th, peaceful Line 3 pipeline protesters are still risking arrest and holding strong to #StopLine3. They have established an ongoing encampment to protect our water, land, climate and our people from this dangerous pipeline project.
We've since seen the Minnesota Court of Appeals uphold permits for Enbridge's Line 3 pipeline. Despite challenges from the people, Enbridge is still choosing to put profits over people and violate Indigenous treaty rights. Even in the midst of this, water protectors vow to stay camped at the banks of the Mississippi in order to #StopLine3.
What's worse now is that the Biden administration has also backed the approval of the pipeline. In a legal brief, the Justice Department argued that the Army Corps of Engineers's 2020 approval of a certain permit for Enbridge's Line 3 oil pipeline followed its legal obligation to consider the project's environmental impacts. If the environmental impacts were actually taken into consideration, our government would listen to us and stop Line 3 before any further damage is done.
Enbridge, a Canadian pipeline company, is building Line 3 through Anishinaabe treaty land and the Mississippi headwaters despite multiple tribal-led lawsuits and ongoing frontlines resistance. If the project were to be completed, the Line 3 pipeline would carry nearly a million barrels of dirty tar sands oil into the US per day from Alberta, Canada to Superior, WI straight through the heartland of Minnesota.The tar sands are a dying and obsolete industry, and more fossil fuel expansion will lead to climate catastrophe. It doesn't make economic or ecological sense to complete the Line 3 project, and it must be stopped now.
This is a critical moment to make your voice heard.
---
Want to read more? Check out the ACE Blog.