ACE INTERVIEW: ACE Fellow Hakim Evans on Education Induced Activism
Indi Howeth
|
May 14, 2021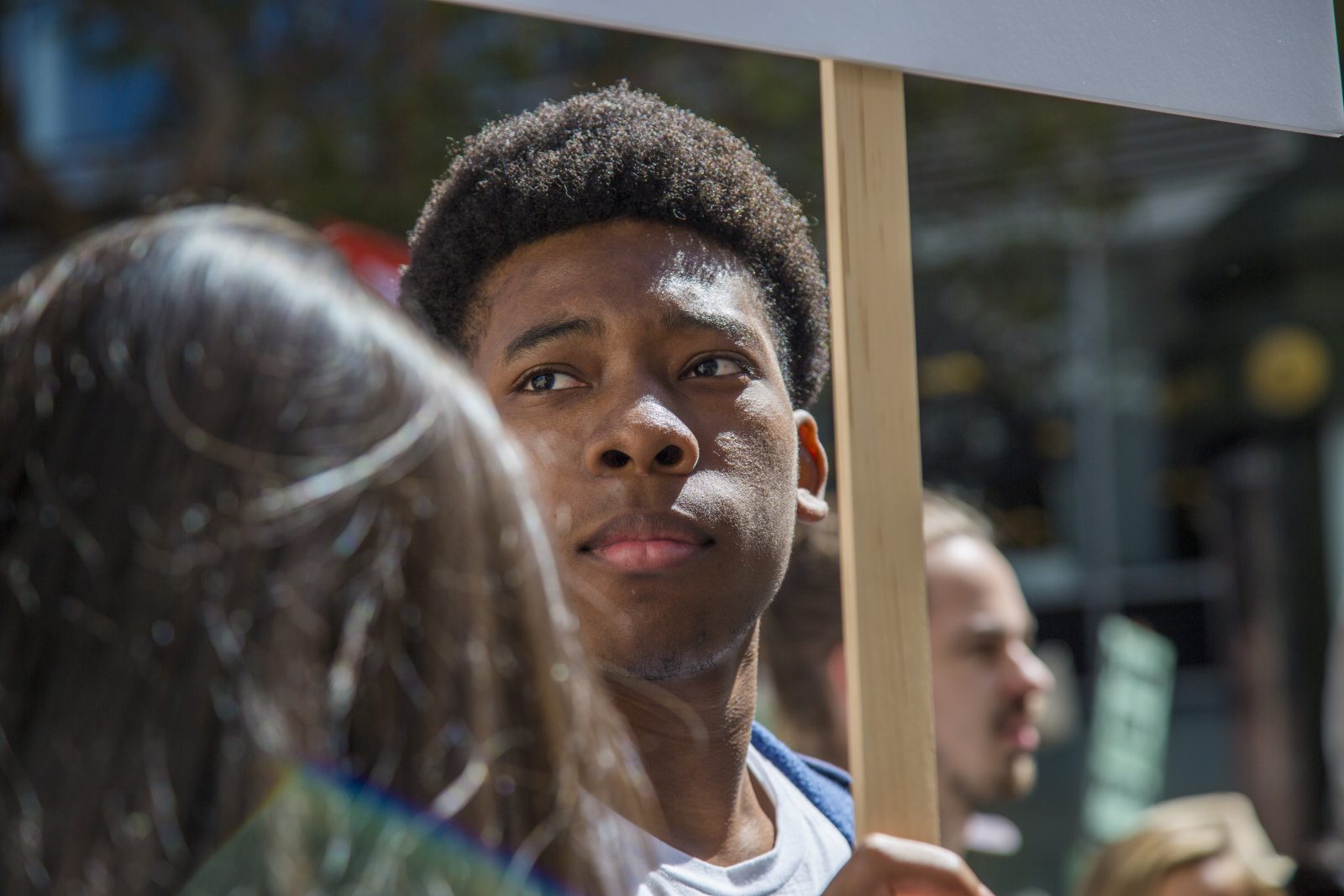 ---
Hakim Evans (he/him) is a 22-year-old climate activist and ACE Action Fellow since 2016 based in Far Rockaway, New York. His passion for the environment stems from his previous advocacy for equitable public health infrastructure and the intersections between climate change and public health. Hakim has played a role in various activities that call attention to the climate crisis such as facilitating workshops and training sessions, attending rallies, and high-level events like the UN Paris Climate Change Agreement Ratification Ceremony and the Global Climate Action Summit. He aims to limit the inequalities of marginalized communities through education induced activism with BIPOC youth at the forefront. He has taken part in a variety of campaigns and partnerships that help youth tackle environmental injustice and bring the climate crisis to light. Hakim is currently a senior studying Economics at York College-City University of New York.
---
Indi Howeth (IH): When did you first learn about the climate crisis? What was your immediate reaction?
Hakim Evans (HE): My first encounter with the climate crisis was during my early days in the Action for the Climate Emergency summer Institute where I learned, through the ACE Assembly, the exact science regarding climate change and what it entailed. In the past however, I have been aware of phenomena like the Greenhouse Effect and our climate, but paying close attention to climate change and its root causes provided more insight on the issue. Initially, I was appalled at the issue of climate change and what was happening, especially taking into account the risk factors that we were facing and how little was being done to address them.
IH: When did you first decide to get involved in climate activism? How and why did you come to that decision?
HE: I first decided to get involved with climate activism after my work with the reality check of New York that was based around curbing tobacco proliferation in minority communities.This was after finding out the connection between the environmental impacts of the tobacco industry and its connection to climate change. That work spring boarded my involvement with ACE and was the major encouraging factor of my decision to apply to the ACE Action Fellowship in New York City.
IH: When was a time you felt proud of the impact you had made through your climate activism?
HE: My climate activism constitutes an array of proud moments, and one that comes to mind is the Youth Climate Summit that I facilitate alongside the Wild Center, where I face an audience of middle schoolers and high schoolers who are eager to learn about environmental justice. Seeing the reactions from these groups after I finish a module gives me hope for the future of the environmental justice movement since so many young people will be educated and hopefully moved to take action on this issue. It also makes me feel proud that I can actively help mold these young minds.
IH: How do you cope with the fear and anxiety that the climate crisis induces?
HE: From many activists, there's the issue of fear and anxiety associated with our knowledge of the climate crisis. Mine stems from the fact that I live in a vulnerable area that could be wiped out by the sea in coming years or by an impending natural disaster. This is the reality of living in a peninsula, but I do have the ability to move which others don't, so this fuels my fear and anxiety for those in my community that I care about who don't have the resources or tools to free themselves from the path of impending climate disasters. The reality is that it's not always possible to cope with anxiety stemming from the climate crisis, but it's important to find something that gives us positive energy and can reaffirm our hope for the future.
IH: Why did you get involved with the Action for the Climate Emergency?
HE: My involvement stems from my previous advocacy work in the realm of Public Health and my need to connect to climate change and learn more about that topic. The name of the organization pretty much gave me what I was looking for and I also saw some of the campaigns that ACE was promoting at the time, such as the Do One Thing challenge. Seeing the work of Action Fellows before me also helped to influence my decision to apply to the ACE Action Fellowship.
IH: What have you been able to accomplish with the Action for the Climate Emergency?
HE: During my time with the Action for the Climate Emergency, I've had the opportunity to take part in a variety of actions that have been personal accomplishments to me. One of my main accomplishments during my time with ACE was attending the ratification of the Paris Climate Agreement. Others include being invited to a screening of Al Gore's "An Inconvenient Sequel' before it was released, making videos with NowThis and Years of Living Dangerously, and meeting other activists who have done promising work in this space.
IH: How do you balance taking care of yourself and your call to activism?
HE: There really isn't a foolproof way of balancing an activist and personal lifestyle since advocating for climate justice can pop out at any moment and the rest of life is just as fluid. As it relates to concrete times of availability when it deals with climate activism, I normally tend to put my well-being first which can come off as kind of selfish, but it is a necessary facet of being a climate activist so as not to be consumed by constant fear and anxiety.
IH: What is your advice to young people who want to get involved in climate activism?
HE: Young people who want to get involved in climate activism definitely need to get educated on what they're getting into before jumping in because this type of work can be very detrimental to those who have little knowledge on the climate crisis and how it impacts individuals, especially if it doesn't directly impact you. Young people willing to get involved in this movement should also understand the characteristics of being a climate activist, such as knowing when to speak and when to listen, knowing when to make space or take up space, understanding that it will never go your way all the time or most of the time, and knowing how to be an ally — just to name a few.
The reality is that it's not always possible to cope with anxiety stemming from the climate crisis, but it's important to find something that gives us positive energy and can reaffirm our hope for the future.
IH: Are you hopeful about this new Presidential administration? What do you hope gets done at a federal level?
HE: The federal government should always be taken at face value, in that we should only be expecting the bare minimum of what can be done in regards to executive action and reversal of bad policies from previous administrations, which is what this administration has been doing so far. What I do hope gets done is the implementation of a national framework with localities and BIPOC communities at the forefront in an effort to address the issue of the climate crisis and climate injustice stemming from it.
IH: Why is local climate activism important?
HE: Local climate activism plays an important role in the grassroots development of environmental justice since it deals with local issues and can more easily rectify the issues faced by marginalized communities in individual municipalities. Local climate activism also has the power to set precedents that the rest of the country and other localities can emulate and has been seen as a way to bypass national inaction without missing countrywide goals.
IH: Why is youth climate activism so necessary and how do you get adults to pay attention?
HE: Youth climate activism is necessary because it shows adults that youth care about certain issues and are willing to take action on them, even if adults do not follow suit. This also helps to mold youth as a pressure group for adults — not just lawmakers, but regular adults, which may include disengaged voters and those who would undermine the power youth have in decision-making processes.
IH: Thank you so much for participating in this interview!
---
All photos courtesy of Hakim Evans and ACE
Answers may have been edited for length
Want to read more? Check out the ACE Blog.