Youth Think Climate, Issue 3: Earth Month
Liane Xu
|
April 26, 2021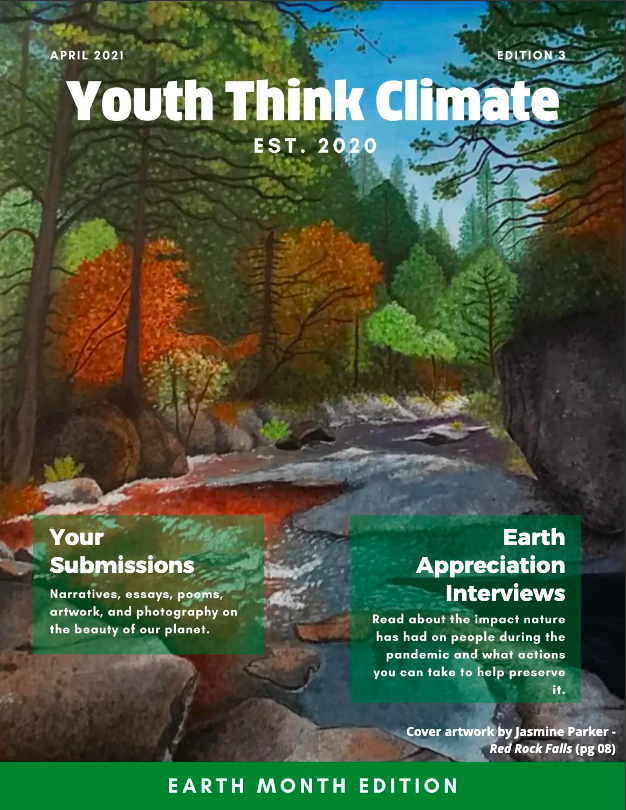 Youth Think Climate (YTC) is an international magazine dedicated to sharing youth stories surrounding the climate crisis. The theme of this third edition is Earth Month, focusing on the beauty of our planet and what we need to do to protect it.
The Earth Month edition features photography, poetry, essays, and narratives from young people living in 18 US states & territories and 3 countries, alongside their interview responses about the impact of nature.
The Youth Think Climate Team is thrilled to share the magazine with the world. We want to thank everyone that submitted work for this issue as well as the whole team that helped put it together.
Please share far and wide. Follow us on instagram to find our previous 2 editions, @youththinkclimate.
The YTC team firmly believes education is critical to evoking progress and represents the root of an equitable future. After the publication of YTC's first edition on climate change denial, the team expanded from 6 to 16 Action for the Climate Emergency fellows and Youth Action Network members. 
Want to read more? Check out the ACE Blog.