ACE INTERVIEW: Co-Founder of Plus1Vote, Saad Amer shares how to be an organizer
Indi Howeth
|
February 19, 2021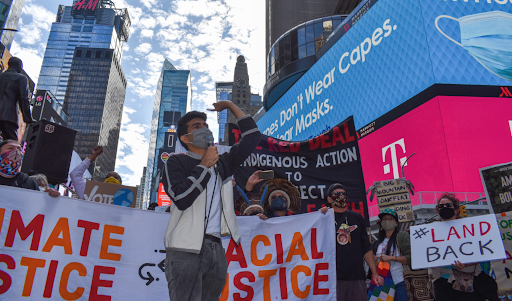 Saad Amer is the CoFounder of Plus1Vote, an organization dedicated to improving voter turnout. Reaching millions, the organization rallies voters on issues like climate change, social justice and voting rights and has worked with the likes of Al Gore, Alexandria Ocasio-Cortez and Halsey.
He is an Expert Reviewer for the upcoming IPCC AR6 report, is on the United Nations Framework Convention on Climate Change's Youth Constituency, and is an Advisor to the National Parks Conservation Association. He has researched the impacts of climate change on the ground in the Indian Himalayas with USAID, taught environmental sustainability in China, co-created Harvard University's inaugural Sustainability Plan, and discovered a new hybrid species in French Polynesia. He has written for National Geographic, PBS and the World Bank, and has spoken at the United Nations and TEDx. He went to Harvard University where he studied Environmental Science and Public Policy with a minor in Organismic and Evolutionary Biology. Find him on Instagram @itssaadamer
---
Indi Howeth (IH): How did you first get into activism?
Saad Amer (SA): I started as an activist when I was in the 9th grade. I started an initiative at a local land preserve on Long Island. I designed an educational curriculum, organized over 50 tour guides, and provided tours to thousands of students k-12 about ecology, environmental stewardship and climate change. I saw the passion other young people had about improving our community and quickly understood the power of organizing. I was especially proud to do it beside my favorite person in the world, my high school Biology teacher, Mr. Murray.
IH: What drew you to activism surrounding the electoral process?
SA: Through my work, I've had the opportunity to work on local policy, work with the UN and lobby for major policies in Congress. But I found that at every level, our elected officials were not taking meaningful climate action even despite the science being more clear than ever.
I figured if our officials would not vote on climate legislation, we would mobilize and vote them out of office. What's more, it was clear that our politicians were not representing us–not in age, race, gender, sexual orientation, or policy priorities. My desire to work in elections started with the understanding that we needed to radically shift who we allowed to represent us in office, and that if they were not representing us, they did not deserve that office.
IH: What is Plus1Vote and how did you get the idea for it?
SA: Plus1Vote is a nonprofit organization dedicated to getting out the vote and improving representation in our democracy. Through strategic partnerships, digital campaigning, and on the ground organizing, we are mobilizing voters to urge someone else to vote. We engage the electorate in conversations on Climate Change, Social Justice, and Voting Rights to increase the representation of youth and Black people, Indigenous People and People of Color in our democracy. Who's your Plus1?
IH: Many young people want to be an organizer for change in their community, but don't know where to start. How did you start Plus1Vote? What would be your advice to people who don't know where to start?
SA: Plus1Vote started with a simple question: Who's your #plus1? I believe activism starts with 1, the one person you will personally help get registered to vote, the one person you want to bring into the movement.
If you're looking for where to start, begin by deciding what core thing you want to change about society, and bring in others who share your values. That's how movement building starts.
IH: Many young people struggle with doubting their own capabilities. How you experienced this and how have you overcome these feelings?
SA: There are a lot of haters in the world. People will take every opportunity to question you and your capability to create change. They will say you are too young or too brown or too queer or too something to be taken seriously. Those people are trying to get you to feel insecure and shut your voice before you even start raising your ideas. This stops your ideas from ever getting out and prevents them from ever having to argue with or compromise on your ideas.
I was told my whole life that I was too something to make sense. I found that those people never had the ability to debate down my ideas once I presented them. Haters gonna hate.
---
"The reality is that your ideas are valid. Your experiences are valid. You have to raise your voice. It's the only way change will ever happen."
---
IH: What does a typical day look like for you? What kind of activism schedule do you keep yourself on?
SA: Days vary immensely, though my days always start with a cup of tea. From there I usually have a few calls with our team to go over organizing priorities, develop campaigns and go over creative. Some days I'll be leading voting activist rallies, others I'll be organizing for a march on the ground. We've been developing some major climate campaigns lately, so I've been meeting with other activists and like-minded organizers. My schedule is often centered around major election dates and campaign launches.
IH: You have interviewed a slew of impressive social change-makers, from Representative Alexandria Ocasio-Cortez to Senator Ed Markey to celebrities like Kumail Nanjani and Mark Ruffalo. Do you ever get starstruck? Has working both with people in the public eye, and those who are not, changed your perspective on organizing at all?
SA: The support we have gotten has been incredible. I was particularly excited to work with Former Vice President Al Gore. He's been an inspiration since I was young, and I was excited to organize, produce and interview him for a collaboration between Plus1Vote and his organization, Climate Reality Action Fund. Hearing about his personal journey in climate was very relatable – like me, he was struck by one of his educators who told him about the changing climate.
Whether famous or not, I am always struck by people's personal stories, and how their life choices have moved them from a place of being in society to a place of wanting to radically change it. We all bring a unique perspective, and I've found that we can draw power from our experiences to motivate us to push for change.
IH: Your organization, Plus1Vote, focuses on one simple action everyone can easily achieve – finding one other person to take to the polls with them. Do you think that finding these simple, achievable actions asked of everyday people are important as an organizer? Why?
SA: Individual action alone is not enough to solve the world's problems. Even in this pandemic when our actions are severely reduced, global carbon outputs are not on track to reach the reductions needed by the Paris Agreement. We need massive systemic change or we will be facing the worst of the climate crisis.
At the same time, everyone has to start somewhere. For me, that activism starts with a #plus1 to register to vote. If you're way further down in your activism journey, go for a plus10 or plus10000. We can only change these systems if we work together. Who's your #plus1?
IH: What is the most important lesson you've learned so far as an organizer that you wish you could tell your younger self?
SA: I actually always listen to advice from my younger self: just start. Don't think about starting, don't think about what you need to start or the barriers you will face. Just start. That's where the magic begins.
IH: Let us know anything else you'd like to share!
SA: Even though we just finished a major election, the need to organize is still as real as ever. We are seeing our democracy actively being attacked, and we are seeing local politicians trying to reduce access to the ballot. We need to continue to mobilize and organize, both for policy and for local elections. You can join us at plus1campaign.org/join . Let's do this!
---
All photos courtesy of Saad Amer.
Answers may have been edited for length.
Want to read more? Check out the ACE Blog.