Thousands of Young People Take to the Streets for the NYC Climate Strike
Ananya Seelam
|
September 21, 2019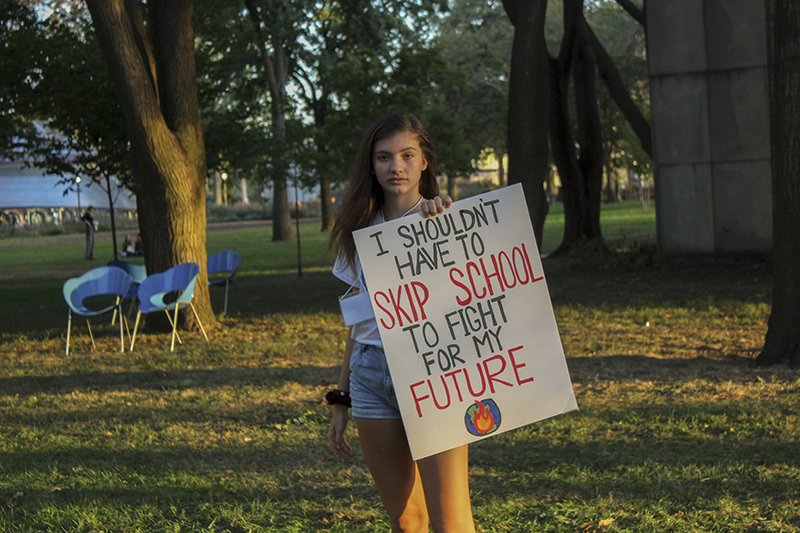 On September 20th, 2019, the ACE Action Fellows, including myself, participated in the Global Climate Strike in New York. As youth reporters, we interviewed other young leaders to raise their voices in this movement. 
Photos from the Global Climate March in NYC taken by ACE Fellow Maria Zuniga.
As we walked to Foley Square at 10:30 a.m., I saw thousands of young people getting ready to march to Battery Park. Seeing young children, as young as four or five years old, holding up signs and chanting, I was inspired and motivated to embark on a long day of advocating and reporting. We soon headed to the media tent to get our passes, and before I knew it, we were marching to Battery Park. When we got there, it was time for me to interview people. I began with an interview with Jamie Margolin, a co-founder of Zero Hour, and then proceeded to interview other youth leaders like Daphne Frias from Zero Hour and March for Our Lives, Kevin Patel from One Up Action, and Feliquan, a designer and organizer for the climate strike in NY. One thing that stood out to me among these interviews was the idea of intersectionality. With the 2020 election specifically, I realized that it is extremely important that we take into account the fact that climate change affects all other issues that we face in our society, like racism, LGBTQ+ rights, and even healthcare. As candidates talk about key issues, it is important that they don't treat climate change as a separate issue. 
As I conducted interviews, I got the opportunity to see global climate leaders speak on stage, including Greta Thunberg, Jaden and Willow Smith, and Xiuhtezactl Martinez. Watching these activists speak and spread their message made me realize that no one is too small to make a difference. What was once thought to be an impossible task became a reality when over 4 million people striked around the world today. Knowing that young people were the main force behind the strikes and that when we come together, change can be made, I felt empowered to continue my advocacy in North Carolina. 
Want to read more? Check out the ACE Blog.
Join

our Youth Action Network