Press Release: Young People and Adults Strike for Climate Justice in Illinois
IL Youth Climate Strike
|
September 19, 2019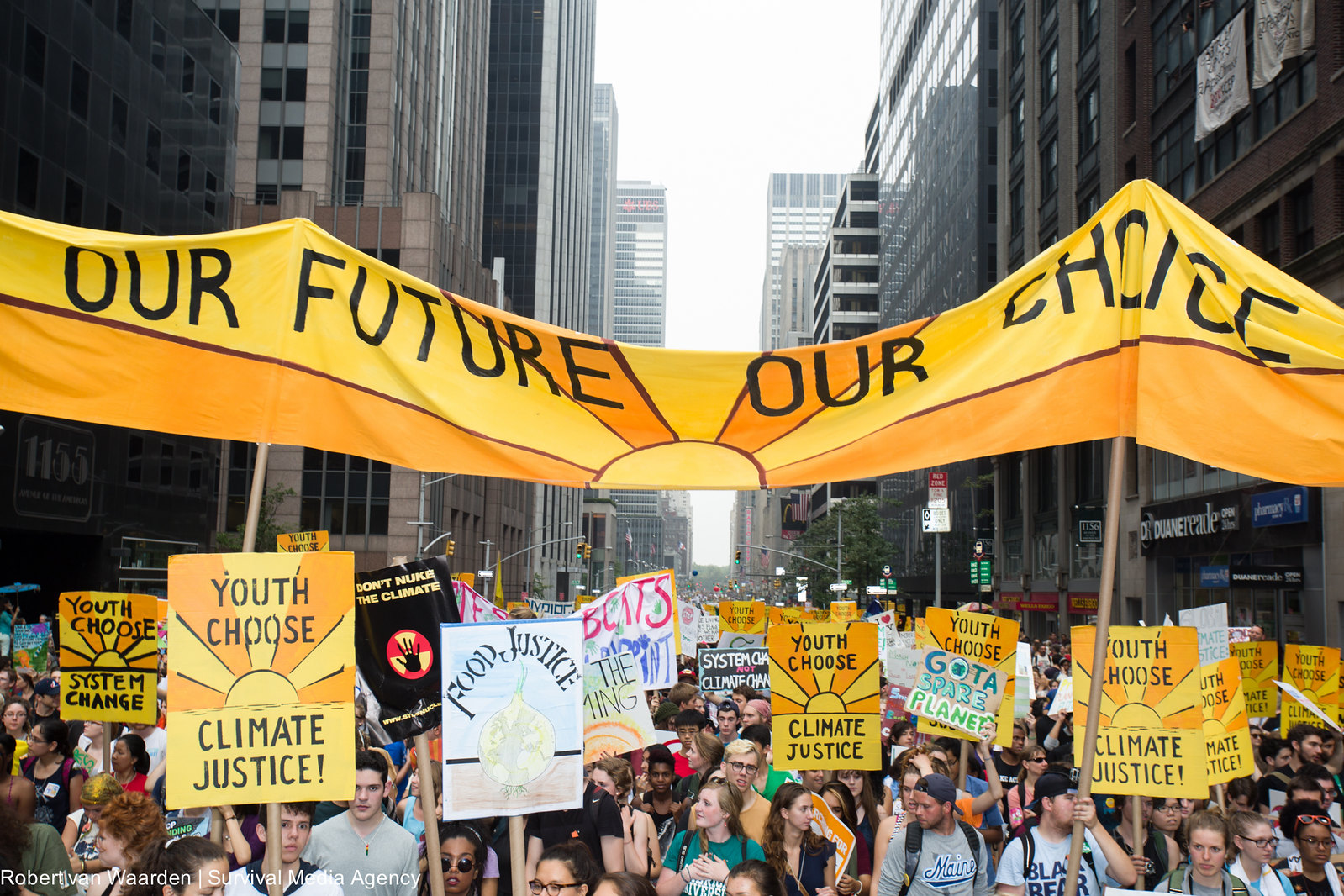 FOR IMMEDIATE RELEASE
---
Contacts:
Leah Qusba, Executive Director, Alliance for Climate Education (ACE), 262.880.8661,

[email protected]

Serena Worley, Outreach Coordinator, IL Youth Climate Strike, 224.300.3017,

[email protected]
YOUNG PEOPLE & ADULT ALLIES ACROSS ILLINOIS ARE STRIKING FOR CLIMATE JUSTICE & URGING GOV. PRITZKER & STATE LEGISLATORS TO PASS CLEAN ENERGY JOBS ACT

Young people across Chicago and around Illinois are striking on Friday, September 20, for climate justice and a rapid transition to 100% renewable and equitable energy for the state. This youth-led action will also be joined by adult leaders and businesses, working together to demand immediate, meaningful action on climate change.

The main youth organizers of the strike are the IL Youth Climate Strike organization with support from other organizations, including: Extinction Rebellion Chicago, Alliance for Climate Education (ACE), and Sunrise Chicago. Groups are striking to urge Gov. Pritzker and the Illinois General Assembly to pass the Clean Energy Jobs Act (CEJA) to move Illinois to 100% equitable renewable energy as swiftly as possible. CEJA is a grassroots effort led by the Illinois Clean Jobs Coalition of environmental, business, consumer, healthcare and faith organizations across the state.

Youth Climate Strike Chicago Event Details
Press Conference, 10:30am
Grant Park at the Corner of Roosevelt and Columbus

Youth Climate Strike, 11:00am
Grant Park at the Corner of Roosevelt and Columbus with a march to Federal Plaza, followed by a rally with a line-up of speaker
Quotes from Youth Climate Strike Organizers in Chicago, IL

"I strike for the millions of future climate refugees whose lives will be destroyed by a crisis they did nothing to create. We've known about this issue for decades and still done nothing to prevent it. Don't listen to us, listen to the scientists and stop pretending this is a far off issue. We're already seeing the effects of climate change, and they'll only get worse if we continue to do nothing." – Serena Worley, Outreach Coordinator, IL Youth Climate Strike
"I am striking because I refuse to sit and watch as our leaders refuse to take action to save our futures again and again. I am striking because I will not accept climate change as an unsolvable problem. I am striking because my generation (and future generation's) lives depend on it." – State Director, IL Youth Climate Strike, Isabella Johnson
"Extinction Rebellion Chicago is supporting the youth who have organized the Youth Climate Strike, part of the Global Climate Strike, in amplifying the voice of the people for the need for action on the climate crisis. The climate crisis poses an unparalleled threat to human rights and life on our planet, and it calls for an urgent response on the part of our government. We call on Governor Pritzker to tell the truth about the climate crisis and declare a climate emergency and our state legislator to take action to reduce green house gas emissions to net zero by 2025 by taking action on legislation such as the Clean Energy Jobs Act. Anything less than this is abdication of responsibility in the wake of the catastrophe we face." -Robin Lovett-Owen, Extinction Rebellion, Chicago
"Alliance for Climate Education (ACE) is supporting youth organizers nationwide and across Illinois to further build on the powerful, youth-led movement that they have created. We've long known that young people have the unique moral authority, creativity, energy and innovation to lead social movements, and today it is self-evident as hundreds of thousands of people across the world follow the lead of young people in demanding immediate climate action from our leaders. Together, we urge Governor Pritzker and the IL General Assembly to pass the Clean Energy Jobs Act. There is simply no time to waste. The time to act is now." – Leah Qusba, Executive Director, Alliance for Climate Education (ACE)
"I'm striking because my generation deserves a sustainable future, we are calling on our government to fight for us. We want JB Pritzker to see this strike as his constituents demanding CEJA and demanding a livable planet for us to grow up in. We need citizens to be aware of our governments lack of action when it comes to climate change and use this strike to try to change that." – Lauren Crowe, IL Youth Climate Strike Organizer
"You call us the generation with a screen addiction, the generation with no real sense of how the world works, and the generation that gets everything handed to them. The only thing being handed to us is a world with dents and cracks. A world that is struggling to reach a new day as time goes on, and the only thing that we don't understand about the world is why the majority of our government won't do anything about it. Having "The weight of the world on our shoulders" was always just an expression, but to our youth that will be striking on September 20th, it's become a reality." – Angela Diaz, IL Youth Climate Strike Organizer
"I'm striking to save the future. My immigrant parents struggled so hard for a better future for my brother and me, and we might not even have one. The climate is changing, sea levels are rising, species are disappearing, disasters are striking every hour. Something had to be done." – Jessica Li, IL Youth Climate Strike Organizer
"I strike for climate to promote environmental justice. People of color are the last ones considered when it comes to climate action plans, I want to change that. Youth Climate Strike promotes intersectionality, and it's necessary to any truly just climate plan." – Lina Avalos, IL Youth Climate Strike Organizer
"I am striking because I was horrified by the lack of urgency when it comes to climate action. I am frustrated that the adults who have the resources to fight it and protect our futures, don't. Even though people are dying and struggling from the effects, the politicians who are supposed to represent us, don't care." – Avery Martin, IL Youth Climate Strike Organizer
"I'm striking because now is the time to act, because by the time I'm done with school, it might be too late to reverse the effects of climate change. Governor Pritzker, do not wait to start taking action towards saving the planet, Illinois needs to be a leader when it comes to clean power and the people will support you. To the people: it may seem like there isn't very much progress and that the politicians aren't doing much, but throughout history it has always been the people who start and the politicians that follow. If enough people voice their support for environmental action, then the politicians will follow." – Aidan Lane, IL Youth Climate Strike Organizer