Alliance For Climate Education Celebrates 10 Years Young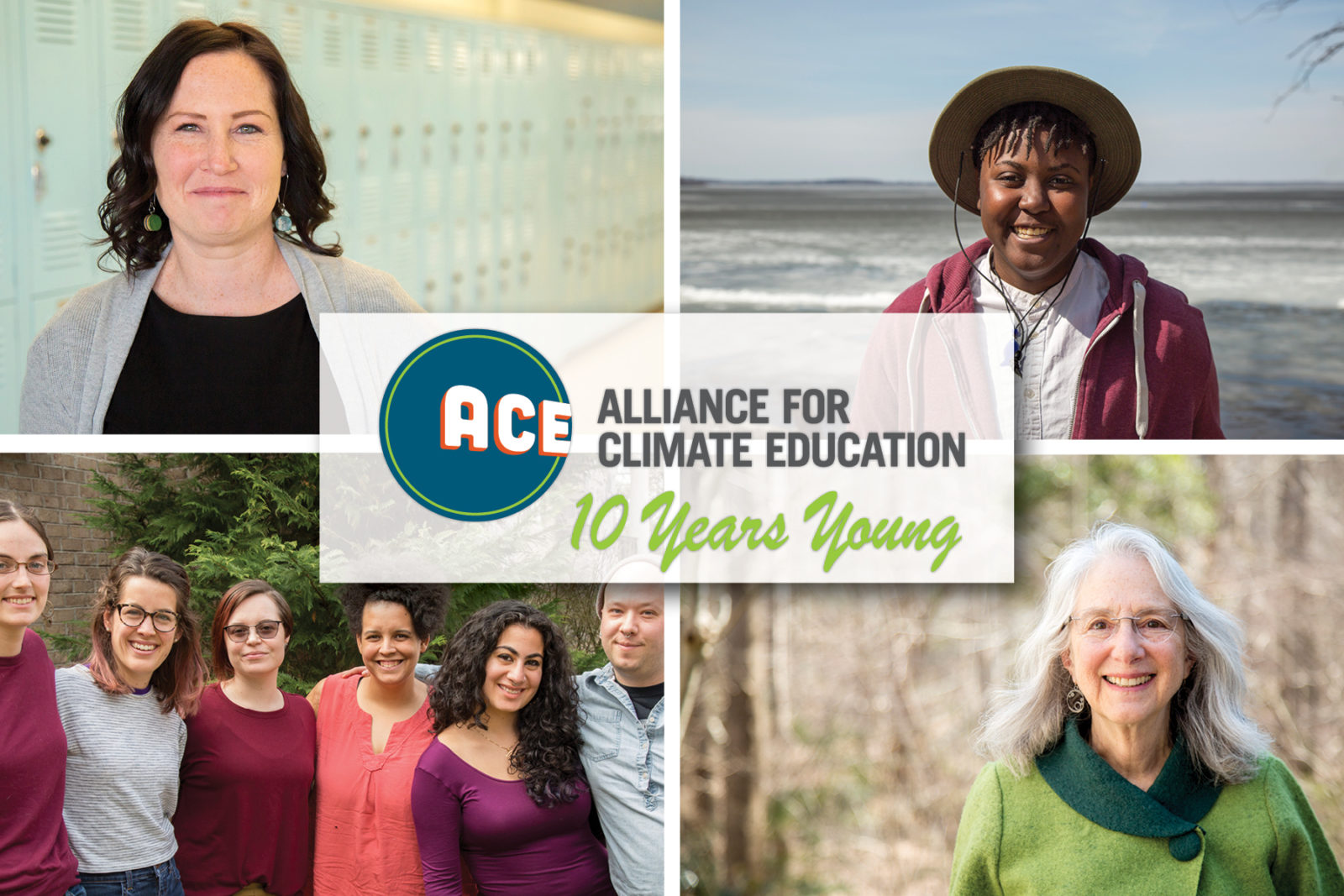 ACE was thrilled to bring our community together to celebrate 10 years of work to educate young people on the science of climate change and empower them to take action. Since 2009, we have reached over 3 million youth with our programs and tracked over one million climate actions, all focused on creating the prosperous, healthy, and equitable future that we all deserve.

The event showcased inspiring young climate leaders, courageous educators, and the generosity of ACE's most steadfast supporters. ACE honored Vic Barrett (Activist of the Decade), Leigh Metcalfe (Teacher of the Decade), Power Shift Network (Partner of the Decade), and Cathi Seligmann (Donor of the Decade) for their contributions to the youth climate justice movement. We are honored that Annie Leonard, Executive Director of Greenpeace USA, joined us as the keynote speaker for the evening.
ACE Founder and Board Chair remarked "We are at a pivotal crossroads in the effort to protect our climate, and youth hold the power to connect the urgency we all feel to a sense of optimism and hope. As we look forward to ACE's future, I am inspired by educators like Leigh Metcalfe who courageously teach climate change in their classrooms, and activists like Vic Barrett who are suing the federal government for the right to a safe and stable climate. Our work is stronger and more relevant thanks to loyal partners like the Power Shift Network and dedicated donors like Cathi Seligmann. We should all be proud of ACE's first decade, and with time running out to address this crisis, ACE will continue to play a pivotal role in equipping young people with tools they need to speed the transition to a clean energy future."

We are tremendously grateful to the sponsors of ACE: 10 Years Young, including: Amped Solutions, MD and Jerome Buttrick, Frank De Rosa, Do Good Events, Becky and Jim Eisen, Michael and Rocio Haas, Revolution Messaging, Ruben DeLuna Creative, Chelsea and Jonah Sachs, the Seligmann Family, Ventana Property Services, Aaron and Rachel Zubaty,
Thank you, too, to the generous supporters who donated in honor of ACE's first decade, including: Andrew Gunther and Theresa Burns Gunther, Marianne Mitosinka and George Wick, Pension Dynamics Company LLC, ShareProgress, and Virgin Unite. With thanks also to generous in-kind sponsors: glassybaby, Haywork Winery, and The Hub.

To join these tremendous supporters in launching ACE into the next decade, you can donate to ACE: Next Ten.
The 10-year celebration event on May 2nd at Covo in San Francisco brought together nearly 200 guests including business leaders in renewable energy, genX professionals, genZ and millenials making a difference, tech professionals, government representatives, nonprofit partners, and the philanthropic community.

ACE Executive Director, Matt Lappé, said at the event, "As we gather to celebrate ACE's accomplishments over the last 10 years, we are grateful to our network of donors, educators, partners, and young leaders. Thank you for all the ways you have empowered youth to make climate change a top priority in our country. As we reflect on the hard work that has led to our success, we recognize it would not be possible without the generosity and support of our community, including sponsors of the event tonight."