A New Chapter for ACE
Michael Haas
|
March 14, 2019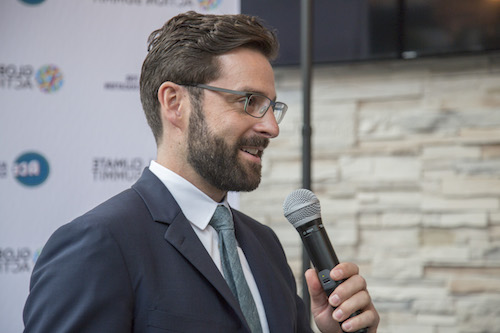 I'm writing to share the bittersweet news that our Executive Director, Matt Lappé, has decided to step down from his role this summer. I wanted to share this news along with our plan to ensure a thoughtful and smooth transition to our next great leader.
All of us at ACE are deeply grateful for Matt's decade of leadership. He joined the team in 2008 as one of our first employees. As Board Chair, I've had the pleasure of watching his leadership grow over the years. Since he became Executive Director in 2014, some of ACE's most impressive achievements include:
Creation of a 2020 strategic plan – mindful that time is our enemy – and synthesizing input from over 50 stakeholders to increase ACE's relevance and impact in the climate movement;
Development of Our Climate Our Future, the nation's leading digital climate science education platform, which has quickly reached over 750,000 students in key geographies;
Launching Our Climate Our Vote, a cutting-edge digital advocacy initiative to make climate a top voting issue for 18-24 year-olds;
Growth of ACE's Youth Action Network to over 300,000 members – including 65% who identify as youth of color – which has collectively taken over 1 million climate actions;
Building and strengthening relationships with foundations, corporations, and individual supporters of our mission;
and Heightened commitment to diversity, equity, and inclusion within ACE and in our work with youth.
Thanks to Matt's leadership, ACE is stronger than ever. We are excited to build on this momentum.
To find Matt's successor, the Board has formed an Executive Search Committee which includes myself and fellow board members Maggie Fox, Pic Walker, and Lisa Hoyos. To ensure our national search is rigorous and thorough, we have engaged Blueridge Advisors to lead this process. Blueridge is committed to identifying and securing a diverse and talented pool of qualified leaders. We plan to move thoughtfully and efficiently in order to have our new Executive Director in place before July, so there is some overlap with Matt.
Thank you for all you have done to support ACE, and for your partnership during this time of change. We'll be sending regular updates as the transition unfolds. On behalf of ACE, we are all very grateful for your continued support.
PS: If you or anyone in your network is interested in applying for the position, please see the job description listed here. Feel free to also reach out directly to Anthony Tansimore, Founder and Managing Director of Blueridge Advisors at [email protected] or 510-470-4769.